STUDENTS SPRUCING UP THE BRENHAM HIGH SCHOOL LANDSCAPING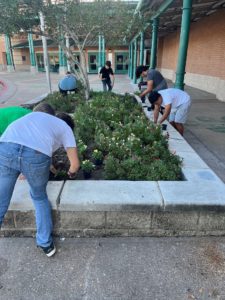 (courtesy Brenham ISD)
If you have been to Brenham High School lately you may have seen some changes to the landscaping.
That is because the students in their Landscape Design classes have been working diligently to help dress the buildings up a little and give them a softer appearance.
These projects are under the direction of Ag Science Teacher and CTE Coordinator Travis Gonzales.
Currently, the classes have installed seasonal color in the two beds in the car rider line and installed trees and shrubs in front of the auditorium and going to the CTE wing.
Other projects that are in the works including landscaping the courtyard across from the library and revamping the flower beds close to the teachers parking lot.
(courtesy Brenham ISD)
Horticulture is the largest agricultural sector in Texas and does not stop with landscaping, it also includes growing fruits, grains, and vegetables.
In their garden lab area, students have 14 raised beds and are continuing to expand through an FFA Ram Grant sponsored by dodge.
The lab is used to grow seasonal crops for consumption and the excess will be donated to Faith Mission as a way to give back to the community.
(courtesy Brenham ISD)
Also Mr. Gonzales' class just completed the shell to a small greenhouse for the students to learn greenhouse management techniques.
Besides the projects going on at the high school, a large demonstration garden will be installed at Brenham Middle School this fall and plans are for it to be up and running by this spring.
Like
Like
love
Haha
Wow
Sad
Angry