Tom Brady Defends Use of Artificial Turf Over Natural Grass Despite Plethora of Injuries Impacting Terrible Buccaneers Season
Pro football is a violent sport; the athletes playing in the NFL are prone to frequent injuries. This season Buccaneers happened to be one of the most affected teams, with Tom Brady losing half of its weapons even before the season had begun. The quarterback unraveled one of the main reasons behind this issue.
ADVERTISEMENT
Article continues below this ad
Well, playing on natural grass and artificial turf is quite different. Maintaining and repairing artificial turf is quite easy compared to natural grass. So commercial, it is viable, and the league promotes it.
ADVERTISEMENT
Article continues below this ad
However, players are gradually affected, sometimes leading to season-ending injuries. The Buccaneers passer believes that these injuries and playing on artificial turf are part and parcel of sport. Any player pursuing the game is aware of it and knows that his physical health is at stake.
Oct 23, 2022; Charlotte, North Carolina, United States; Tampa Bay Buccaneers quarterback Tom Brady (12) turns back to hand off the ball during the second half against the Carolina Panthers at Bank of America Stadium. Mandatory Credit: Jim Dedmon-USA TODAY Sports
There's nothing much they can do than accept reality. While speaking in a recent episode of the 'Let's Go! Podcast', Tom Brady discussed this issue in detail.
"I think it's the nature of the very physical sport. These are very big people running very fast in small spaces. So I think there's going to be injuries, which is part of being in contact. I think the noncontact ones. I think that's where you can really focus on your own preventative care," he said to Jim Gray on the show.
DIVE DEEPER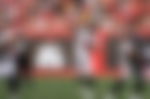 Well, Brady happens to be the qualified person to view in this context. He lost center Ryan Jensen in the early season. Receivers like Julio Jones and Chris Godwin had to remain benched for a couple of games, and most recently, outside linebacker Shaq Berrett was carted off in Week 8, incurring a serious ACL tear.
Tom Brady explains there is no choice
ADVERTISEMENT
Article continues below this ad
Brady happens to be one of the fittest athletes playing in his 23rd NFL season. Despite maintaining himself and staying away from long-term injuries, Brady fell victim to such setbacks this season.
He was sacked numerous times and had previously recalled feeling intense pain in his shoulders. But in the end, it's about playing and winning the games. "Playing on grass is much better for us players and not just, I'd say NFL players but college players, high school players….. and I think the accumulation of a lot of years on turf can be very challenging when you reach a per level too," Brady explained in the interview.
ADVERTISEMENT
Article continues below this ad
"So you know, some of it is you know, a lot of these are financial decisions that are made. But, you know, we've got to always try to mitigate injuries as best as possible," he added. Moving ahead, the athletes need to remain fit, especially for the Buccaneers, if they really want to contend for a Super Bowl ring. What do you think about artificial turfs?
Watch This Story: Tom Brady's Interaction With Former Archrival Makes NFL World Go Nuts Amidst Suffering 5th Defeat Of The Season