maki yoshimura completes nursery building extension between two retaining walls in japan
Maki Yoshimura's Nursery School Extension in Nagoya City, Japan
Maki Yoshimura Architecture Office (MYAO) has completed a small extension to an existing nursery school on the north slope of the Yagoto Hills in Nagoya City, Japan. The intervention installs a surface between two retaining walls, using the small space between the concrete kindergarten building and the adjacent wall to create a new office space for the school staff.
images by Tololo Studio
enclosed between two retaining walls
Since the early 1990s, the nursery school, which is known for its Waldorf education system, has undergone a series of renovations to establish a suitable daycare setting. The existing kindergarten takes shape as a two-story reinforced concrete structure on the Yagoto Hills. Located on a relatively steep slope, the nursery school is enclosed between two Kanchi retaining walls which rise up to 7 meters in height. With this context in mind, the MYAO team sought to construct a new office building in the little remaining space formed between the kindergarten building and the tall walls.
The first and second floors of the kindergarten building present two completely environments. The garden on the first floor is enclosed by the retaining walls and surrounding structures and thus appears as an interior space. On the second story, the landscape changes radically, and a thicket slope extends out along the outer hallway.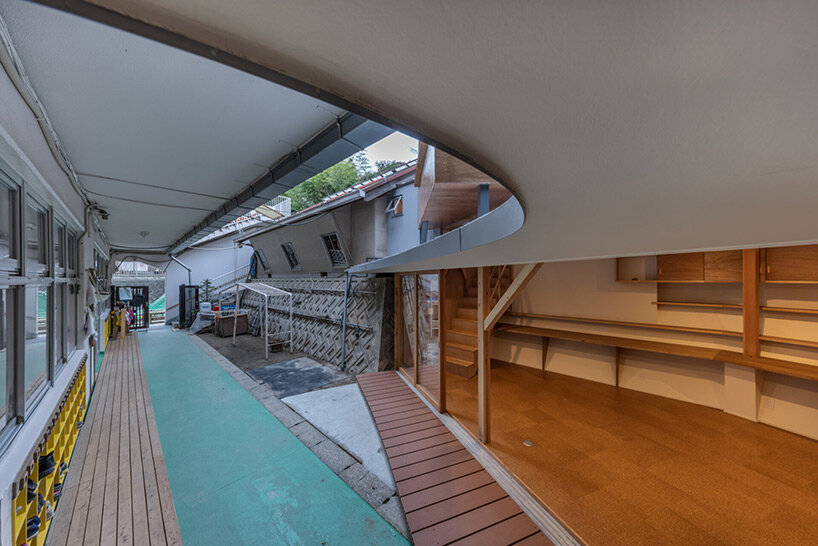 Maki Yoshimura Architecture Office opted to develop a new surface between the retaining wall and the existing kindergarten building in order to shape the relationship between them. A thin slope is stretched from the top of the retaining wall to the eaves of the first level, with the first floor placed beneath it and the second floor hut on top.
The first floor has lost its outward appearance and is now shaped like a retaining wall that has been converted into a room. The interior appears to be the internal space encircled by the original retaining wall. As a staff room, this room is open to the garden, and the slope is employed as eaves to keep it visible with the original building's sash. There is only one little interview room on the second floor, but it is on a new slope with a stack. This idea is the result of digesting civil engineering works in architecture and chewing them up so that they can be used as a daycare area.