"There Needs To Be Tighter Standards": Aaron Rodgers Makes His Opinion Known On Highly Criticized Artificial Grass Amidst Plethora Of Season-Ending Injuries
The debate around artificial turfs on NFL fields is a long-standing one. And from last year's Super Bowl, the voices against it have only intensified. And now, Aaron Rodgers is the latest player to join the long line of anti-turf dissenters.
ADVERTISEMENT
Article continues below this ad
Speaking at a press conference ahead of the Green Bay Packers' week 5 game against the New York Giants in London, Rodgers shares his opinion on playing on artificial turf. "I think it's interesting to look at some of the numbers around injuries on grass compared to artificial grass. They do a good job, but the standard isn't the same across the board."
ADVERTISEMENT
Article continues below this ad
"If we're going to keep doing artificial grass, there needs to be maybe a little bit tighter standard, uniformity, really on grass field and on artificial grass. Tottenham's pitch is obviously very important to them and we'll play on whatever they put down." The QB said.
Sep 18, 2022; Green Bay, Wisconsin, USA; Chicago Bears quarterback Justin Fields (1) is sacked by Green Bay Packers linebacker Preston Smith (91) in the fourth quarter at Lambeau Field. Mandatory Credit: Benny Sieu-USA TODAY Sports
While the Packers play on grass at Lambeau Field, the Tottenham Hotspur Stadium features artificial turf for the Sunday night game.
Artificial Turfs reported to cause more injuries, 90% of players prefer grass
The concern with higher injury rates on artificial turfs is not new. Last season's Super Bowl game between the Los Angeles Rams and the Cincinnati Bengals saw the Rams' Odell Beckham Jr. go down with an ACL injury. Analysts and physios place mostly blame the artificial turf that the SoFi stadium uses, as a reason for the injury to occur.
DIVE DEEPER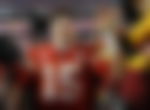 Post the game, multiple players came out with petitions on Change.org, to convince the NFL to ban turfs altogether. Cleveland Browns Nick Chubb even claimed that 90% of the players in the league prefer to play on grass. Chubb himself has suffered an injury in the past, which he blames on the turf at AT&T Stadium, where he sustained the injury.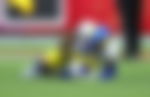 Feb 13, 2022; Inglewood, CA, USA; Los Angeles Rams wide receiver Odell Beckham Jr. (3) reacts after sustaining an injury against the Cincinnati Bengals during the second quarter in Super Bowl LVI at SoFi Stadium. Mandatory Credit: Mark J. Rebilas-USA TODAY Sports| Reuters
The NFL Players' Association's research on injuries from 2012 to 2018 suggests that playing on turf can lead to more injuries that when playing on grass. The data shows a 28% increase in non-contact injury rates while playing on turf. Including a 32% increase in non-contact knee injuries, and a 69% increase in non-contact foot or ankle injuries.
ADVERTISEMENT
Article continues below this ad
The most common reason cited for turf causing injuries is the density of the material. While a grass pitch gives a minor slip effect under too much pressure, the dense turf can trap the cleats.
ADVERTISEMENT
Article continues below this ad
The NFL is split evenly into teams that use turf and teams that use grass for their stadiums. Of the 16 teams that play on turf, 13 were among the top 16 most injured teams in 2021. And the top three least injured teams in 2021, all play on natural grass. The evidence seems to be crystal clear.
Watch This Story: After 6 Super Bowls and decades of dominance, Bill Belichick's famous cold persona brings up doubts in disappointed fans