The Block 2022: The top 5 features in Tom and Sarah-Jane's winning landscaping
It was a race against the clock as the teams renovated more than 700 square meters of land during Landscape Week on The Block.
While Blockheads had the mammoth task to complete their final Room Reveal of the season, it was Tom and Sarah-Jane who proved themselves to be the unstoppable duo after taking out three back-to-back wins.
It was evident the couple put so much thought and effort into their space, and judges Shaynna Blaze, Neale Whitaker and Darren Palmer thought they showcased the perfect lifestyle with their outdoor space.
Stream the latest episodes of The Block for free on 9Now.
Here are the top five features in Tom and Sarah-Jane's landscaping:
1. Rusty farm equipment as sculptures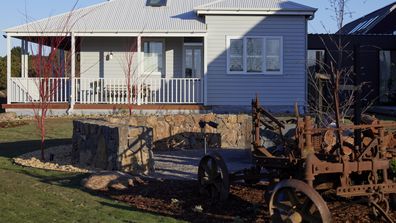 Tom and Sarah-Jane added rusty farm equipment to their garden. (nine)
One thing Tom and Sarah-Jane became known for is taking elements of the old and blending it with new, which they did once again with their landscaping.
The couple decided to incorporate old rusty farm machinery which they had found on the property earlier in the season as a decorative piece in their garden, which was a real hit with the judges.
READ MORE: Dan and Dani stunned by one team's 'unfinished' outdoor space
Not only is it a cheap and effective way to style the backyard area, but it is also a great nod to the history of the home.
"So you really are getting back to the originality of what this land was," Shaynna beamed.
Due to the fact that the machinery was found on the property, it really was a good way to save some money too. It also added some real personality to the space, creating more of a story of the home, rather than going with a contemporary piece.
2. Resort lifestyle
The judges thought the eventual owner will be spoiled for choice with how many different features, activities and zones Tom and Sarah-Jane's landscape offered.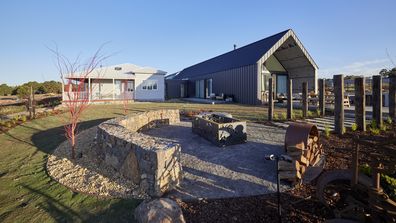 House 1 were applauded for their well thought out zones in the outdoor area. (nine)
"OK so Tom and Sarah-Jane haven't just created an amazing property, they have created a lifestyle. They are actually showing us how you live in this space," Neale said.
"It's been beautifully planned and zoned and landscaped. They've added so much value," Darren added.
READ MORE: How twins Alisa and Lysandra became Block royalty after competing on back-to-back seasons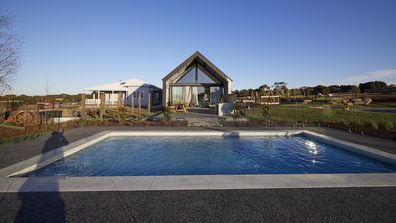 The judges thought their landscape offered so much value for a potential buyer. (nine)
From the stacked stones and timber beams around their firepit, to the "mind blowing" entertainment area and pool, the couple really created a lifestyle which could appeal to a variety of buyers.
The entertainment deck in particular had all the inclusions you'd need for a delicious feast and pool party – ideal for entertaining friends of any age.
It included a pizza open, meat cooker and even a special spot to store the woodfire underneath.
Tom and Sarah-Jane thought of everything when it came to their entertaining area. (nine)
As the judges moved throughout the property they were gobsmacked to discover a pony pen, chicken coop, basketball court, mini-playground and a par-three golf course.
The home caters for absolutely anyone and everyone.
READ MORE: How an unfinished detail still secured one team's work from home space a win
Mum and dad can relax by the firepit, the kids can spend all day in the pool or climbing across the playground equipment, older teens can hit the basketball court or chill out away from their parents at the 'hobbit hut'. It really does have everything you could want.
After taking in all of its glory, Neale corrected his previous statement about the space creating a lifestyle.
"I stood back there and said, 'Tom and Sarah-Jane have created a lifestyle'. I was wrong – they have created a lifestyle resort," he confirmed.
3. Pony pen
With weeks of planning, House 1 really thought of everything when it came to their outdoor space and it was a block first.
But it was one feature that left the judges both stunned and emotional – the pony pen. It even had a pony in it for the reveal.
Neale thought it would offer an amazing lifestyle for a potential buyer.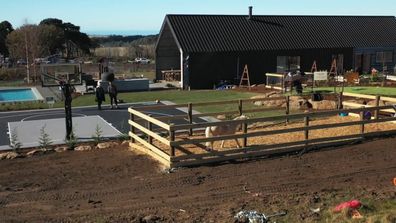 Tom and Sarah-Jane included a real pony for the reveal. (nine)
"I'm thinking of how life-changing this will be for whoever buys this, for whoever lives here, for that family. It's a dream come true isn't it?" he said.
A horse pen is really not the addition you'd see in many homes but it's definitely a standout feature in House 1.
READ MORE: A closer look at the standout details in this years winning kitchen
Even Shaynna noted there will be so many little girls dream of getting a pony and there will be a definite emotional connection to House 1 for some buyers with a pony in the backyard.
4. Contrasting the old with the new
Tom and Sarah-Jane were praised for their execution of transitioning the new and old parts of the home.
The couple decided to use a lovely contrast between dark and light gray cladding, which Neale thought worked beautifully.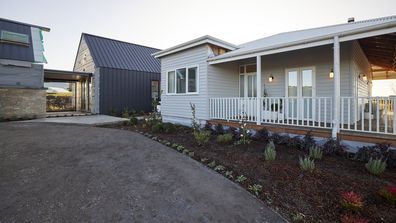 Neale loved the cladding the couple used on both the old and new parts of the home. (nine)
He thought the contrast between the dark and light gray worked beautifully.
"I just love it, I turn [one] way and I see a beautiful country style verandah with the weatherboard, and then you turn [the other] way and you see the complete opposite, and the impact that makes is just incredible," he said.
They were also struck by the gray and white color scheme on the façade of the old part of the house. They thought it all looked gorgeous together.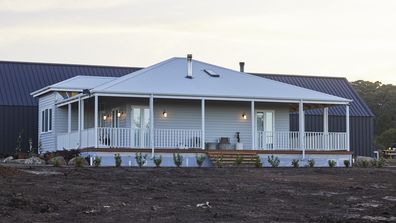 Tom and Sarah-Jane's use of contrasting colors worked really well. (nine)
"But then just having those big white pots connects to the verandah, which I think is really clever. So we are seeing that connection between the old and new in really subtle tones," Shaynna said.
READ MORE: Why one team's master ensuite was crowned 'high end' by the judges
Blending such a contemporary shed with the original home was always going to be a challenge, but Tom and Sarah-Jane proved that by keeping things simple it wasn't that hard.
The contrasting colors create a really beautiful feeling in the home and really add some wow factor too, especially up against the rest of the stunning landscaping.
5. Water features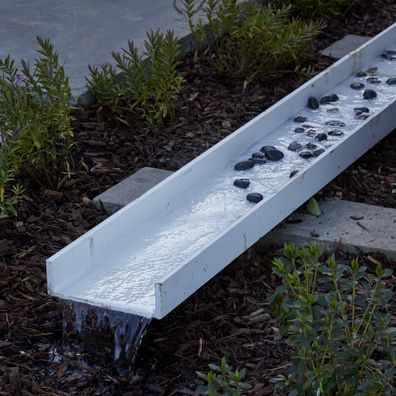 The judges loved Tom and Sarah-Jane's water feature at the entrance of their home. (nine)
As the judges first walked into the property, they were met with the sound of a bubbling stream from the water feature. The trio took a moment to take in the calming vibes of the space.
"The tranquility of that, it's very zen," Shaynna pointed out.
Neale thought the water feature was a lovely addition to the entrance of the home.
"The sound of that water in the stillness of this landscape is really quite beautiful," he said.
A water feature isn't for everyone, but it's a feature some buyers will be instantly drawn to that's for sure. The gentle sound is definitely a relaxing one and it'll no doubt be a tick for some people walking through the home ahead of auction day.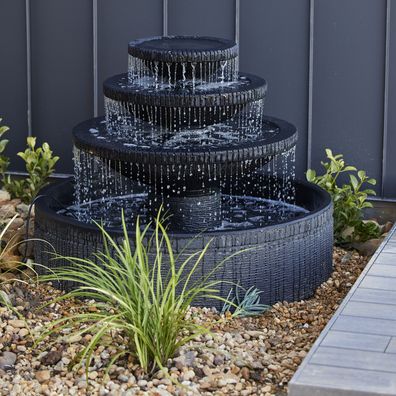 The couple pulled out all the tricks with this tiered water fountain. (nine)
That wasn't the only water feature that the judges were fond of after discovering black tiered water fountain in their backyard.
"That's a beautiful water feature," Shaynna beamed.
"Even I have to admit that is spot on," Neale added.
Local wildlife is also going to enjoy having a bit of fresh water to splash about in too, and we can only imagine little frogs or birds enjoying these features as much as the owners.
The addition of yet another one creates another calm zone in their spacious backyard plan and adds another bit of interest.
There's no doubt that Tom and Sarah-Jane created a showstopping landscape and it'll definitely be a big factor on auction day.
InPictures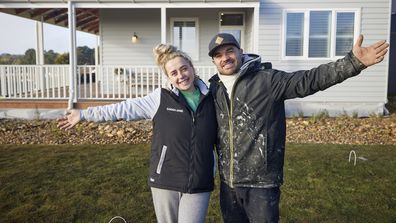 Tom and Sarah-Jane's Landscaping
The tree change dream made real.
ViewGallery
The Block: Tree Change Grand Finale Auction, will air Sunday November 6, at 7pm on Channel 9 and 9Now. Catch up on all the latest episodes on 9Now.