Notice
: Trying to access array offset on value of type bool in
/home/newsfqwf/kechambers/wp-content/themes/themes/publisher2/includes/libs/bs-theme-core/attr/post.php
on line
305
class="post-thumbnail open-lightbox" href>
The Block 2022 Episode 46 recap: Ankur and Sharon's bold landscaping idea gets shut down and Foreman Dan reveals the pair owe another $26,000
This is it folks, the final week of renovations on The Block.
Not only is it Landscape Week, but the teams also have to clad their houses, complete their verandahs, their sheds, fix any defects and deliver their game changer.
The only thing softening that massive blow is that the contestants have woken up with an extra $90,000 in their accounts for their landscaping budget.
Stream the latest episodes of The Block for free on 9Now
It's safe to say the cash injection has been a welcome start to the week.
Tom and Sarah-Jane's landscaper Troy gets a little too excited by the news. He has gone "bananas" and spends $35,000 before lunchtime.
But hey, at least House 1 can afford to do it!
House 3 is not in the same boat.
Even with the $90,000 top up, they have an outstanding debt of $53,000 to pay and trade costs to catch up on.
"We thought there'd be surplus money and so we started some discussions about what we can add," Ankur reveals.
What do Ankur and Sharon want to add exactly? A helipad.
"Initially when the idea for the helipad came about the reasoning was because we had a big bunch of land and the buyer that I think will buy this property will be well versed with a helicopter," Sharon explains.
Ankur and Sharon run the idea by their landscaper Tim and he strongly advises against it. When he says "definitely not" to a concrete helipad, Sharon pushes for a grass one.
But with very strict time and budget constraints, it's no surprise that Ankur and Sharon's ambitious idea is met with a lot of reluctance from landscapers Tim and Ash.

(nine)
"Can they see how much work needs to be done around here?" Ash vents to the other traditions.
"Everyone's running at a loss, why don't they use that extra money to pay everyone."
Unhappy with Tim and Ash's response, Ankur and Sharon ask engineer Doug what he thinks about the helipad.
He is ever so slightly more optimistic and says he needs 24 hours to see if it can be done. But warns them it will cost at least $20,000, which Ankur and Sharon definitely don't have.
Site Manager Aidan also catches wind of Ankur and Sharon's grand plans, and he has no qualms telling us what he really thinks of the idea.
"I think talk of a helipad with six days to go is one of the stupidest things I've heard," he says bluntly.
"It's just not gonna happen."
Site Manager Aidan brands Ankur and Sharon's helipad idea "stupid". (nine)
So Aidan cuts to the chase with Ankur and Sharon who say they're "just having conversations about it".
"That's just wasting your time, it's wasting Doug's time, it's wasting my time," Aidan tells the couple.
"You don't have time for conversations about that, concentrate on what you've got."
And just like that, Ankur and Sharon's helipad dreams are quashed.
READ MORE: Everything we know so far about The Block 2022 auctions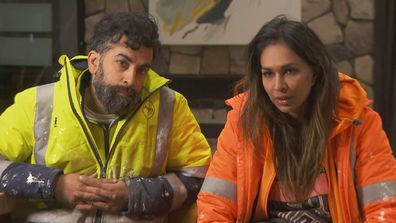 Ankur and Sharon's helipad dreams are well and truly over. (nine)
But just in case they needed extra confirmation that they can't afford a helipad, Foreman Dan delivers some bad news about their budget.
"We were just talking to Scotty and Jo and they just sent over Timmy's invoice for landscaping and we're $26,000 over the allocated budget," Dan reveals.
Somewhere along the way there's been some miscommunication about the $20,000 that was released to the contestants earlier in the competition for landscaping, which means the $90,000 budget is actually $70,000.
On top of that, Ankur and Sharon's funds have been put towards paying off their $53,000 debt, so it's not that shocking that there's been some confusion about the budget.
"We need to save $26,000 somehow," Dan says.
Landscaper Tim says he's not sure what to do, his only option is to send laborers home and ax some planned pathways.
Sharon doesn't want to do that and asks if they can sell the $50,000 worth of wine they won in the Week 4 challenge to pay their trades, but Foreman Dan says that's a question that they'll have to ask Scott Cam.
READ MORE: One detail which could have led to Rachel and Ryan to win Room Reveals
Related Clips
Foreman Keith looks to Ankur for a solution.
"Ankur you're an accountant, have you been over this and the figures and everything like that?" Hey says.
But the pair get very defensive and say the overspend has "nothing to do with Ankur being an accountant". Instead it's got everything to do with their "crap" budget being too small for their house which is "bigger than everyone else's".
Ankur and Sharon are not happy about the accountant comments.
"For them to just go you're an accountant and have a bit of a laugh about it, that's actually my livelihood," Ankur later tells cameras.
Sharon bursts into tears and defends her husband saying "he still has to work after this".
Foreman Keith says sorry for bringing Ankur's profession into the conversation.
"I didn't know it'd offend you like this, I apologise."
But what's an even better apology than that, is that Foreman Keith has a word to landscaper Tim and gets him to honor his promise to deliver House 3's landscaping within budget, even in light of the $26,000 budget overdraw.
It's happy smiles all round now.
You know who else is smiling? Tom and Sarah-Jane.
At the very last Winners Are Grinners Dinner, Scott announces them as winners of the Domain Super Power Leaderboard. Which means that the couple get to choose the all-important auction order.
With the auction order solely in Tom and Sarah-Jane's hands, the other teams are curious to see how things will pan out.
"It'll be interesting to see how they go about it," Omar says.
But Ankur and Sharon seem happy to have dodged a bullet.
"A lot of pressure comes with that," Ankur says.
"I'd rather that decision go to someone else," Sharon adds.
InPictures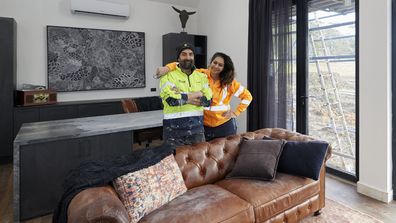 Ankur and Sharon's Work From Home Space
Guest judge unleashes on room's functionality.
ViewGallery
The Block airs Sunday at 7.00pm and Monday to Wednesday at 7.30pm on Channel 9. Catch up on all the latest episodes on 9Now.