Surrey opens new artificial turf field and rubberized walking track at Newton Athletic Park
Surrey Mayor Doug McCallum with enthusiastic kids on new the rubberized walking track at Newton Athletic Park. Councilor Mandeep Nagra is on the far right. Photo by JAY SHARMA of Mahi Photo Studio
SURREY City Council celebrated the opening of a new artificial turf field and rubberized walking loop at Newton Athletic Park on Thursday.
"I am very pleased to open the new amenities at Newton Athletic Park as part of our commitment to invest in parks, recreation and cultural projects to support our growing population," said Surrey Mayor Doug McCallum.
"Council recognizes the importance of providing opportunities for casual active recreation and competitive play. That's why we have invested $428 million through the 'Surrey Invests' Capital Program to build high quality recreational facilities and amenities in Surrey."
McCallum noted: "The latest upgrade at Newton Athletic is one of more than 20 'Surrey Invests' capital projects that will ensure our residents have increased access to civic amenities that benefit their health and well-being."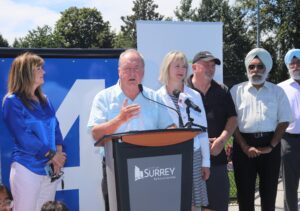 Doug McCallum with Councilors Laurie Guerra, Allison Patton and Doug Elford.
Photo by JAY SHARMA of Mahi Photo Studio
The new signal blue-coloured walking track is a three-lane loop that has been built to track and field quality and standards. It is 630 meters long and 3.7 meters wide. Connected with the existing rubberized walking track, it brings the total rubber walking loop size for the park to over 900 meters.
The surface is a sandwich system of two layers of rubber on top of an asphalt base with a concrete border. The rubberized surface minimizes the impact on the body.
The new artificial turf field is the City of Surrey's 17th full-sized FIFA regulation artificial turf field. It includes covered and well-sheltered player, official and spectator seating. The spectator seating has 72 seats and two wheelchair spots.
The field also includes tournament level LED field lighting and lines and markings for soccer, mini soccer, and lacrosse. The irrigation also makes it safer and more comfortable play during heat waves.
McCallum with kids on the new artificial turf field.
Photo by JAY SHARMA of Mahi Photo Studio
Newton Athletic Park is a 22-hectare premiere sport and recreation destination with amenities including artificial turf and grass sports fields, cricket pitches, tennis, volleyball, and basketball courts, and a spray park.
This is the sixth artificial turf field and second rubber walking track for the park, that will be complemented with a new fieldhouse containing washrooms and changerooms in 2023 for the enjoyment of families and sports enthusiasts alike.
It is one of more than 200 parks that have active amenities such as sports fields, sport courts, playgrounds, community gardens or picnic areas.
Surrey is also home to over 600 other parks that protect natural areas, open space, and biodiversity as part of the larger green infrastructure network.
For more information go to surrey.ca/parks.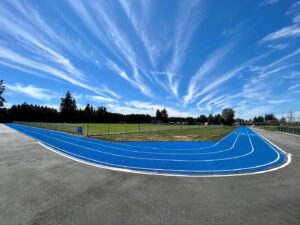 Photo: City of Surrey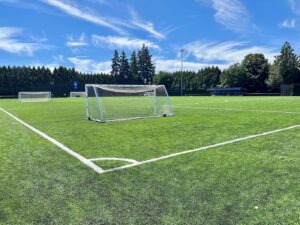 Photo: City of Surrey