Smithers reopens Main Street after Downtown Landscaping Revitalization project finishes
The Town of Smithers reopened Main Street today (Monday) after it was intermittently closed for five months for the Downtown Landscape Revitalization project.
Council members, town staff and the local chamber of commerce were in attendance at the re-opening event that was held this afternoon.
The group gathered at Main Street and Second Avenue where there were speeches and refreshments.
Trever Morris, Chamber President (supplied by: Lindsay Newman)
Smithers District Chamber of Commerce President Trever Morris said it was a long summer and that the community had to exercise a lot of patience.
"I think we can finally say with confidence that it was worth it. It looks beautiful and I'm excited to have a sustainable Main Street. Smithers is beautiful and it's important that it stays that way because this is why people come here and live here," he said.
The contractor for the project was Lyons Landscaping out of Kamloops.
President of Lyons Landscaping Colin Lyons said that they tried their best to work with people from the community.
"We worked hard to find some experts in the industry, so that they could really work beside us on this project. So, you have a lot of locals here with a lot of talent that really helped put this project together well," he said.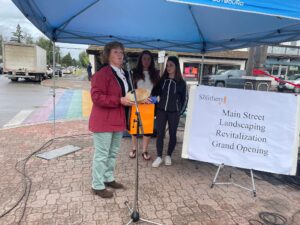 Smithers Mayor Gladys Atrill presenting a bowl created in memor of Harry Kruisselbrink (supplied by: Lindsay Newman)
Additionally, former councilor Harry Kruisselbrink, who passed away earlier this year, was recognized.
"I imagine Harry would be here this day to celebrate with us for all of his decades championing all the good things that we do in this community," Smithers Mayor Gladys Atrill said.
The Kruisselbrink family was given a bowl that was made by Bruce Hobson out of one of the tree trunks that were on Main Street as a part of the Harry Kruisselbrink Project.
The Down Landscape Revitalization project cost nearly $1.3 million dollars which was acquired by the Northern Capital Planning Project.