Pergola ideas: 21 ways pergolas can enhance backyard design
Whether to provide shade, zone a garden, or offer privacy, pergola ideas can be a crucial element in your garden design. 
They can also be used to frame pathways, or create structure. Considering the purpose of the pergola is crucial to the design that you choose. Will it be a focal point, or a transition ? Will there be seating under it? Ideally it should create its own statement with lower lying plants on either side.
Directing the eye upwards by providing interest on the vertical plane is also important to include in your garden ideas, and pergolas are ideal for training a wide variety of scented, flowering climbing plants and creeping vines over for vertical garden ideas. 
Find inspiration and advice for including many different pergola ideas in your backyard and to suit your specific needs.
Pergola ideas 
'A pergola idea should be integral to the layout of the garden, instead of an afterthought. Carefully considering views to and from a pergola are key to enabling it to feel connected to the garden,' explains garden designer Harriet Farlam of Farlam & Chandler (opens in new tab).
With many shapes, sizes and styles a pergola can take, keep in mind its chosen purpose. This may be to lead you somewhere, form a focal point, or create a sense of division by adding a layer that isn't a solid boundary. 
Pergolas ideas can work in any size of garden, from large country plots to smaller patio ideas. Create an impressive focal point and help define an area in your garden with these ideas. 
1. Add a luxury element with a pergola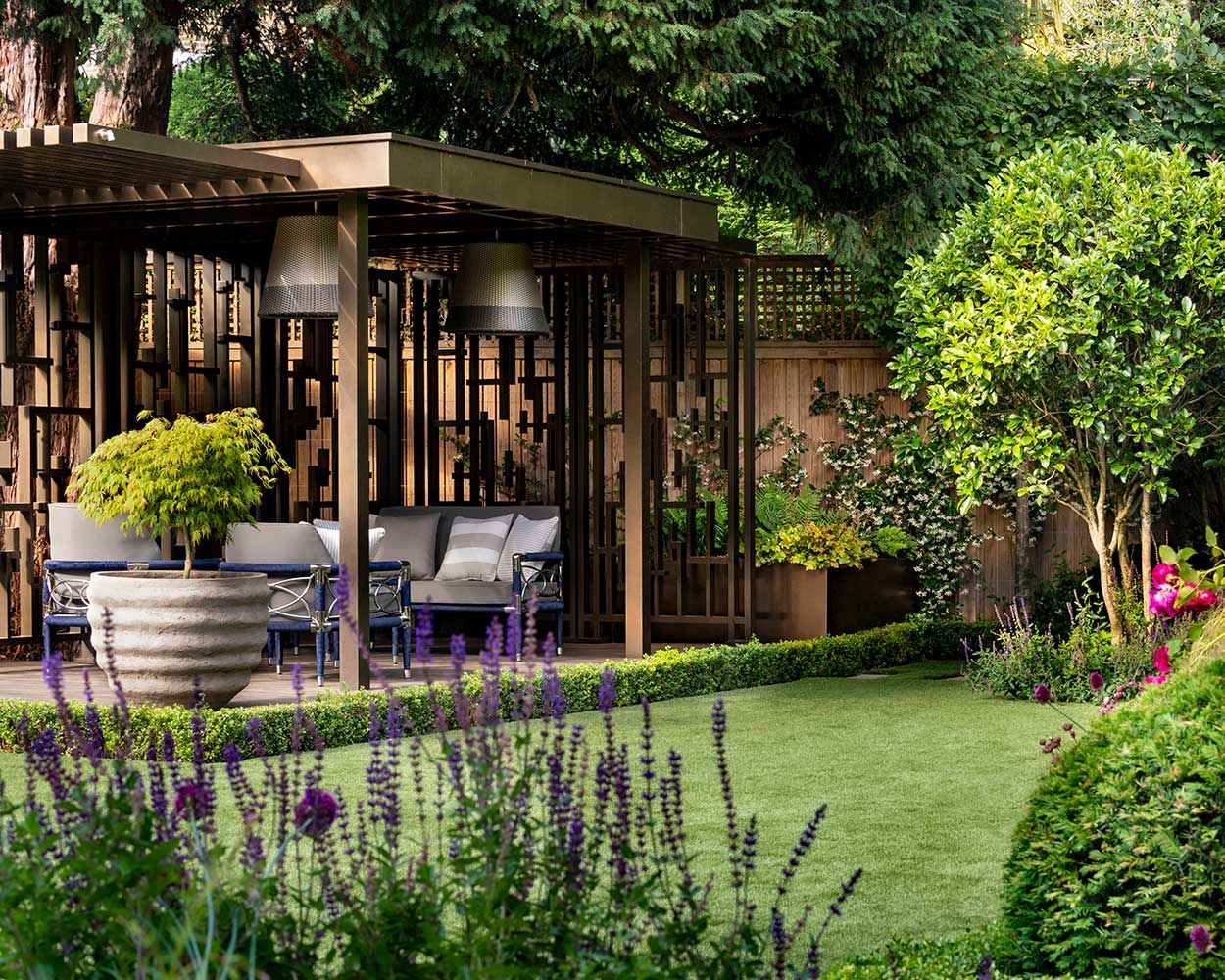 (Image credit: Kate Gould Design / Helen Fickling)
If you are wondering 'how do I add luxury to my backyard?' then a pergola can elevate the space into a stylish and luxurious outdoor living area.
A bioclimatic pergola to place an outdoor dining or seating area under, complete with lighting and comfortable furniture, will add an element of luxury to a backyard, explains garden designer Kate Gould (opens in new tab).
A bespoke design will create a unique space and design statement, and there are many pergola roof ideas to choose from so that you can enjoy this outdoor room year round.
2. Choose a flexible pergola design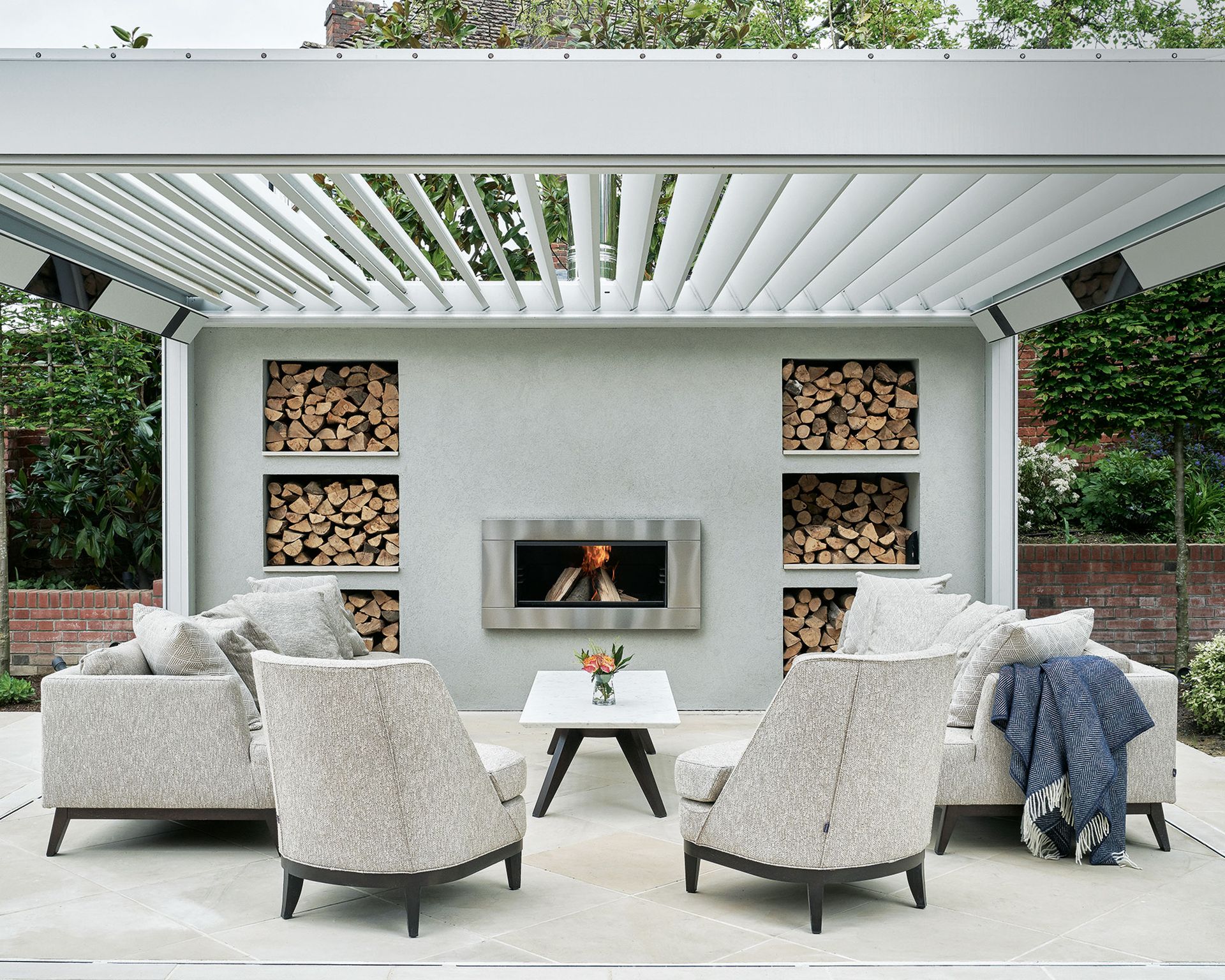 (Image credit: Future / Davide Lovatti)
For the ultimate in flexibility, in some instances you might require pergola shade ideas during the hottest or sunniest part of the day, while at other times prefer light to flood into the patio or seating area, such as in the evening to make the most of the last of the sun's rays.
In this case, a louvered pergola roof, or retractable canopy, offer the flexibility to control the amount of sunshine or shade falling on the area throughout the day and at different times of the year. Working either on motorized or rope pulley systems, there are numerous styles and options available to suit various garden styles.
3. Use a temporary pergola for summer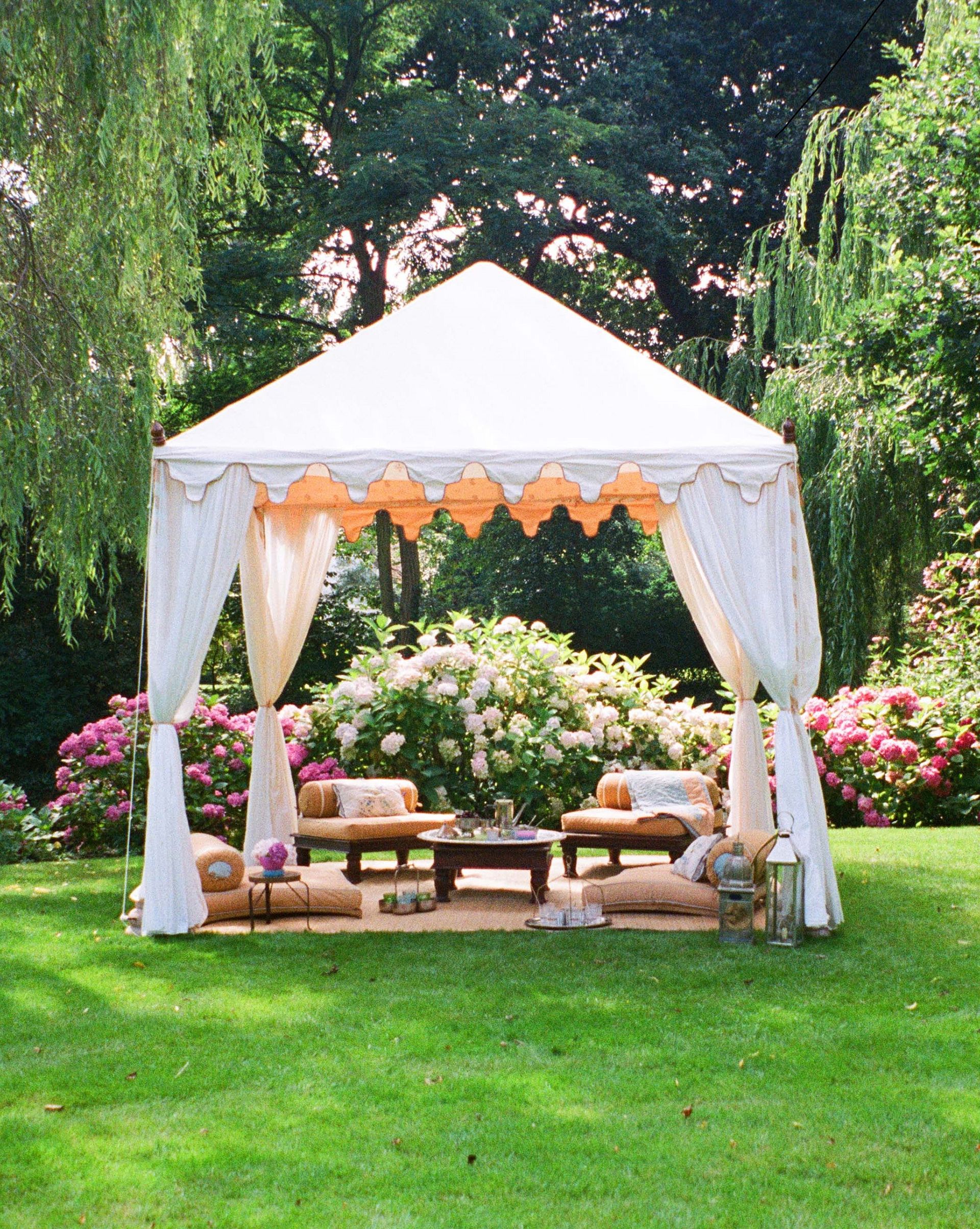 (Image credit: Raj Tent Club)
While the opportunities for permanent pergola designs are endless, do not overlook the potential that a temporary structure can add to your backyard during the summer months. 
Available in a range of materials, from wood and metal to fabric options, you can transform your summer garden into a magical additional living area with temporary pergola ideas that can then be safely stored away during the colder months when you may be less inclined to sit in the garden.
4. Enhance a balcony with a pergola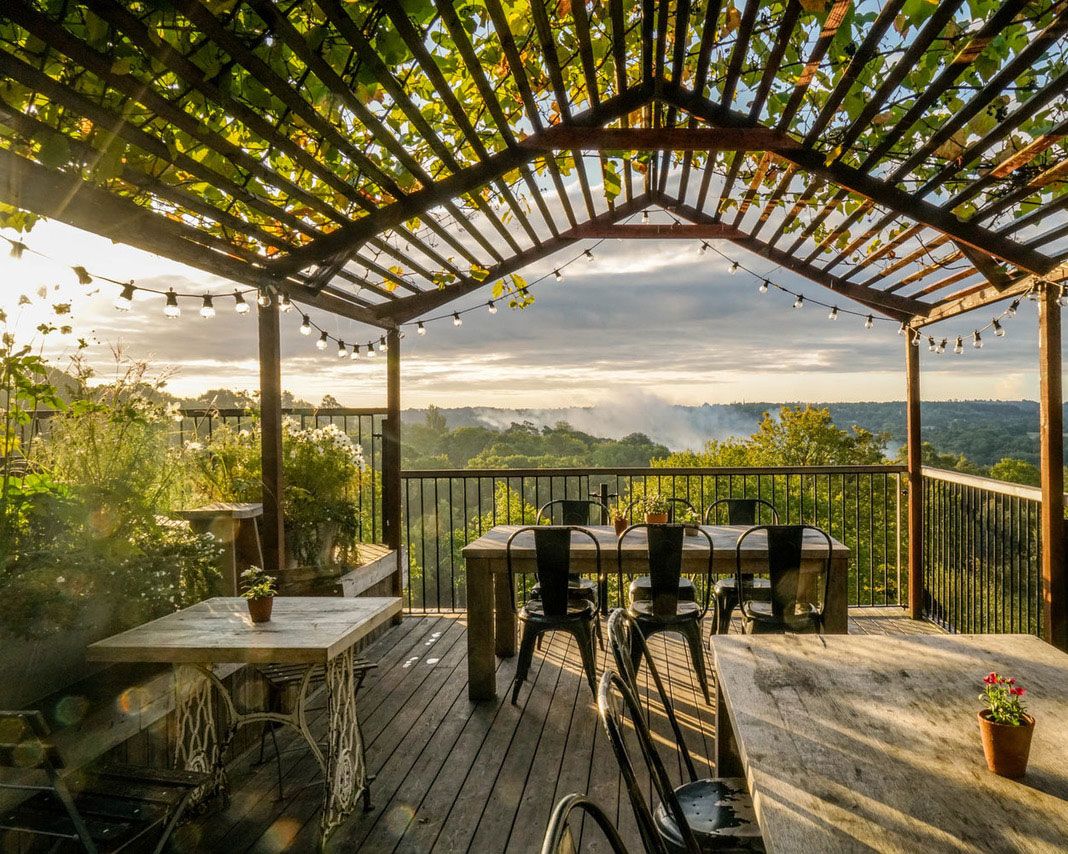 (Image credit: Farlam & Chandler)
Pergolas can be used in outside areas large or small, including as balcony garden ideas. 
'The overhead canopy, whether this is covered in climbing plants or a simple timber slatted surface, can be useful in providing privacy from neighboring properties; particularly in city or town gardens,' explains Harriet Farlam. It can also offer cover from sun, wind or rain if you want to enjoy beautiful scenic views from an elevated spot in a country garden setting
Hanging a string of simple bulb lights from the structure will add light to the space to extend its use into the evening.
5. Frame a view with a pergola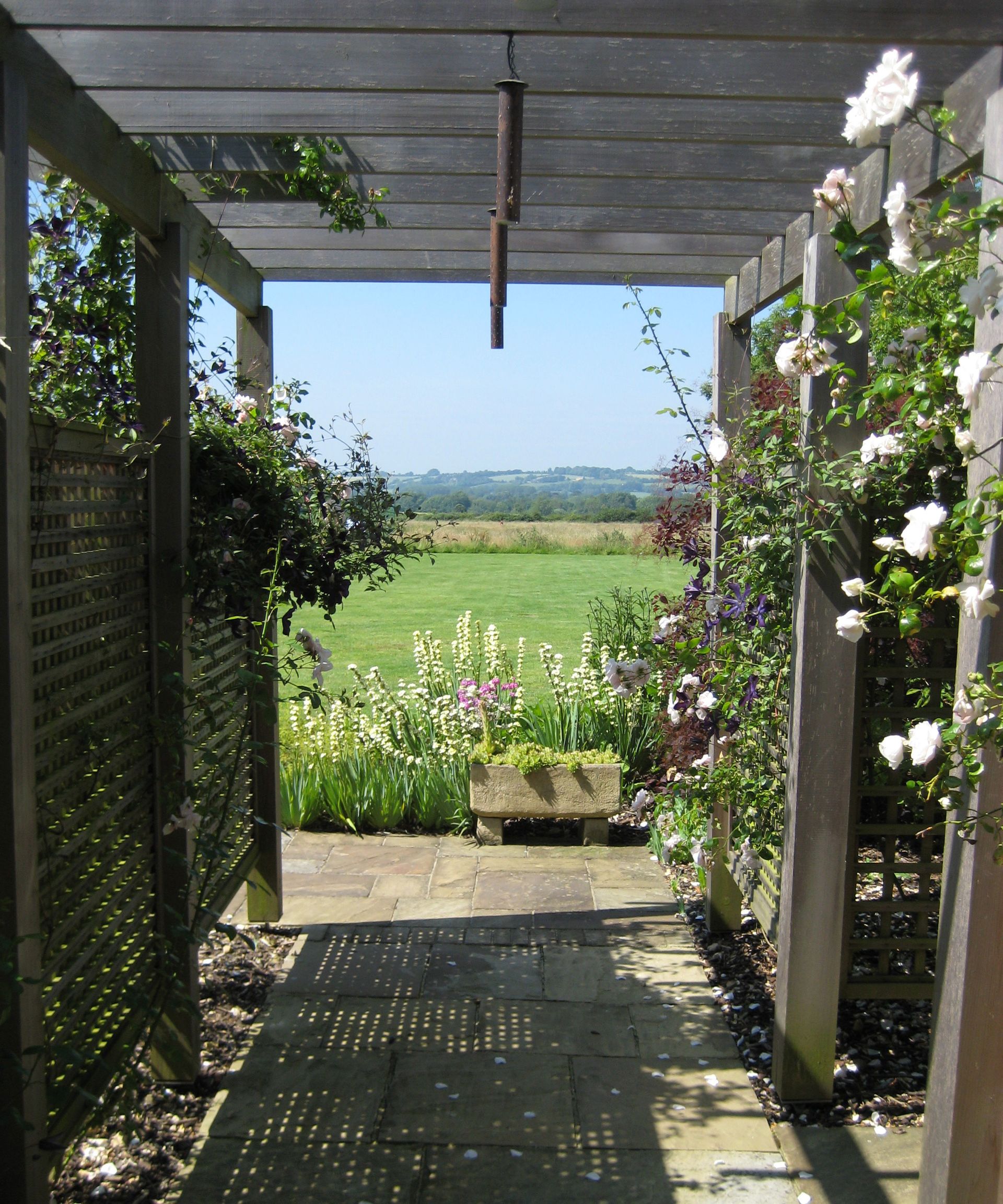 (Image credit: Bowles & Wyer)
Choosing the best place for your pergola can help to draw your eye to specific areas of your garden, yard art ideas, or even frame the view of the surrounding landscape, as with the design above by Bowles & Wyer (opens in new tab).
You can also play a clever trick on the eye as a small garden idea and make the space feel larger by designing the pergola so that it gradually gets narrower the further away it goes. This creates a false perspective that makes the garden feels bigger than it really is.
6. Design a pergola that is the right size for the space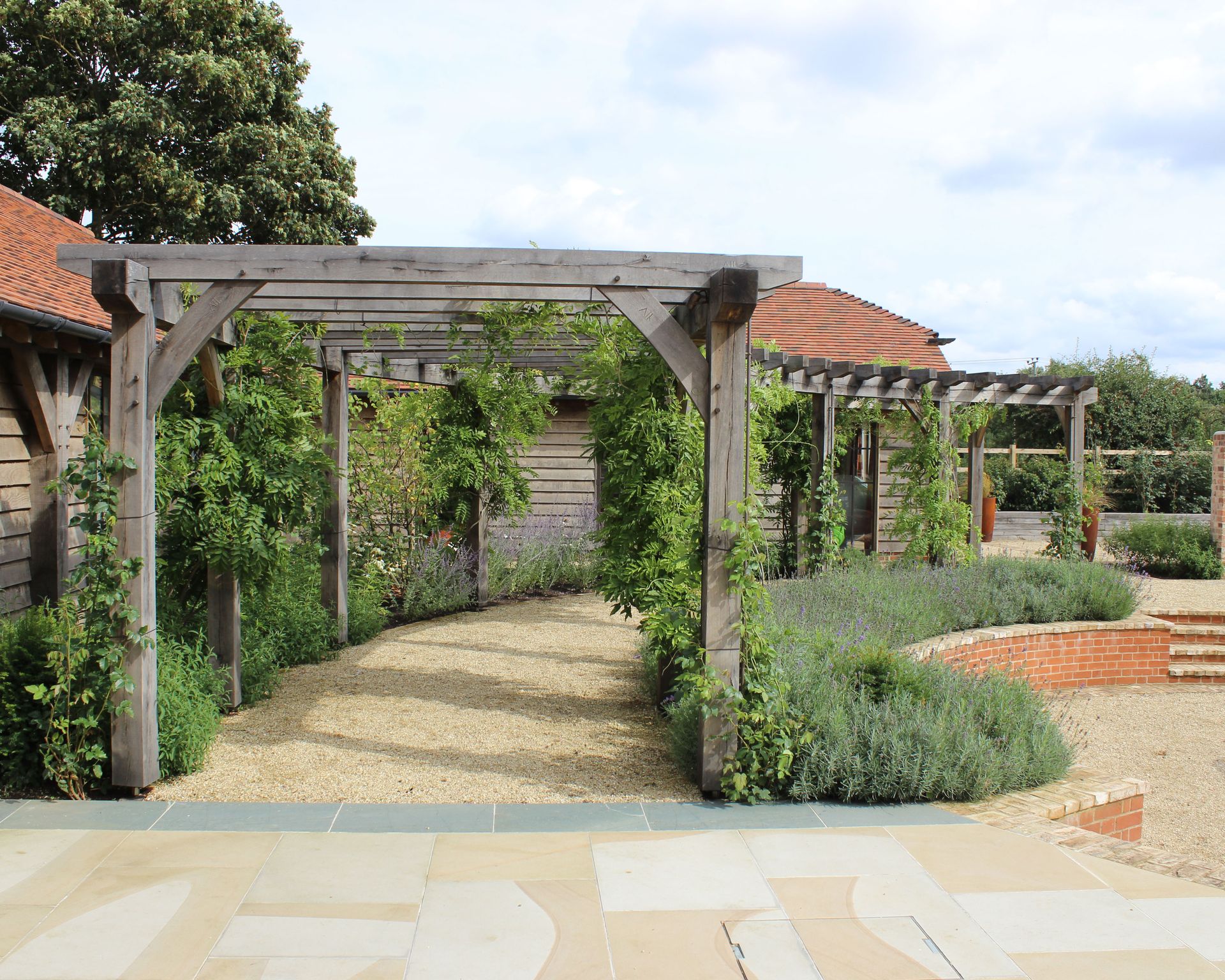 (Image credit: Bowles & Wyer)
Size matters when planning a pergola idea into your garden design so it is important that you think carefully about how to design a pergola. 
'Make sure it won't overwhelm the garden but that it will also be large enough to be practical,' advises garden designer John Wyer of Bowles & Wyer.
Covered in some of the best climbing plants, this wooden pergola creates a shaded and fragrant walkway around the edge of a circular terrace area.
A common mistake is to make a pergola too narrow and too low. 'The size and dimensions of the uprights and overall frame will need to be considered carefully as the size of these really alter the feel of the pergola,' explains designer Fi Boyle (opens in new tab).
'It needs to be proportionally correct so that it does not over-dominate the space,' she adds.
7. Pick the perfect position for a pergola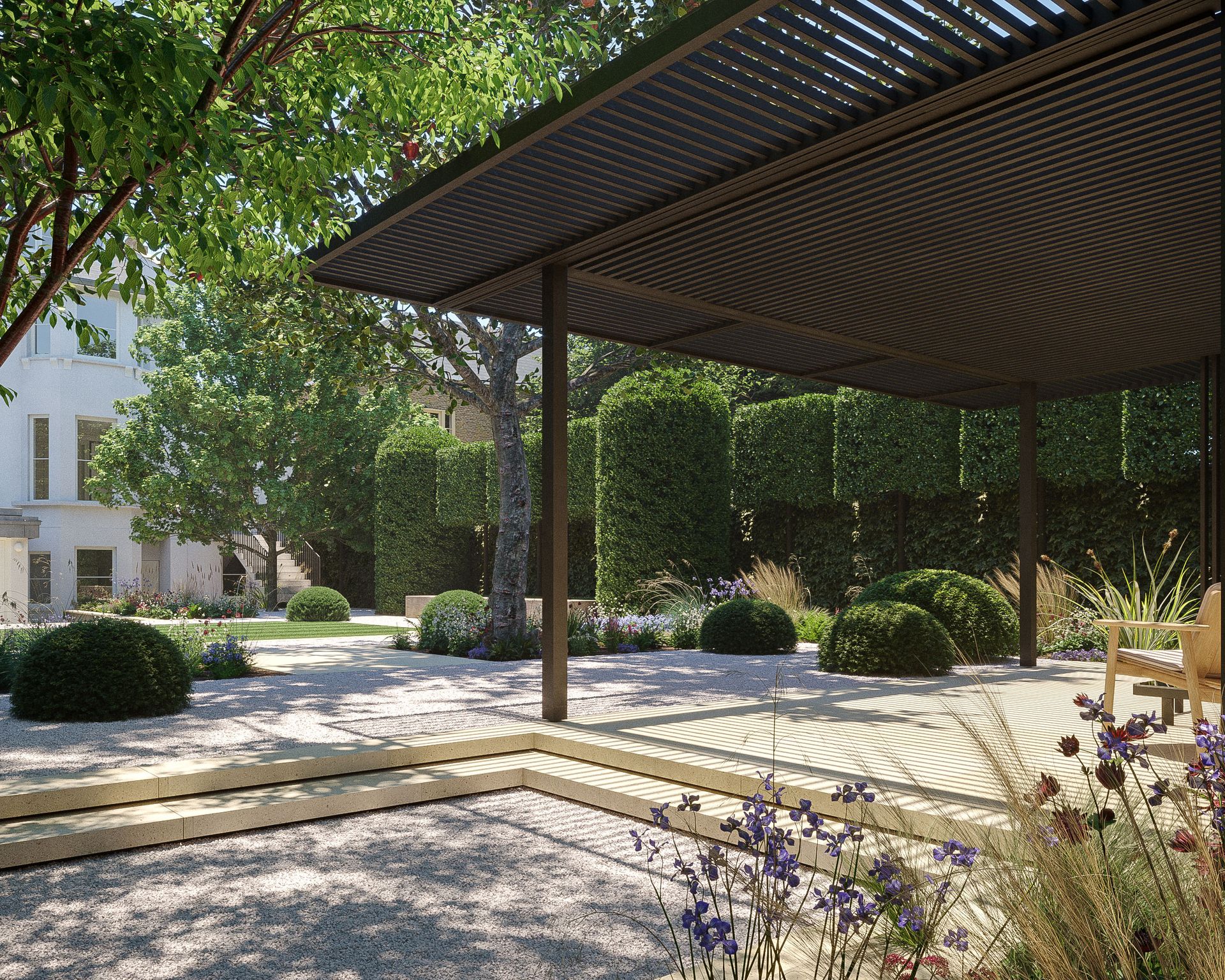 (Image credit: Matt Keightley/ Rosebank Landscaping)
The best place for a pergola will depend on the layout of your backyard and your reasons for including pergola ideas in your garden. 
The clean lines of this modern design by Matt Keighley and Rosebank Landscaping (opens in new tab)perfectly complements the sleek, contemporary design of the garden for this townhouse.
Placement of a pergola is key, 'so that is does not block the flow of a garden,' explains Fi Boyle.
'Pergolas are often places to retreat to, so site them somewhere you will enjoy sitting and where it will not be detrimental to neighbor's views,' adds garden designer Kate Gould (opens in new tab).
'Planning areas of shade is an important consideration when designing a sunny garden, and a pergola is the perfect way to create a semi-shaded area which remains in-keeping with the rest of the design,' adds John Wyer.
8. Create a shaded seating area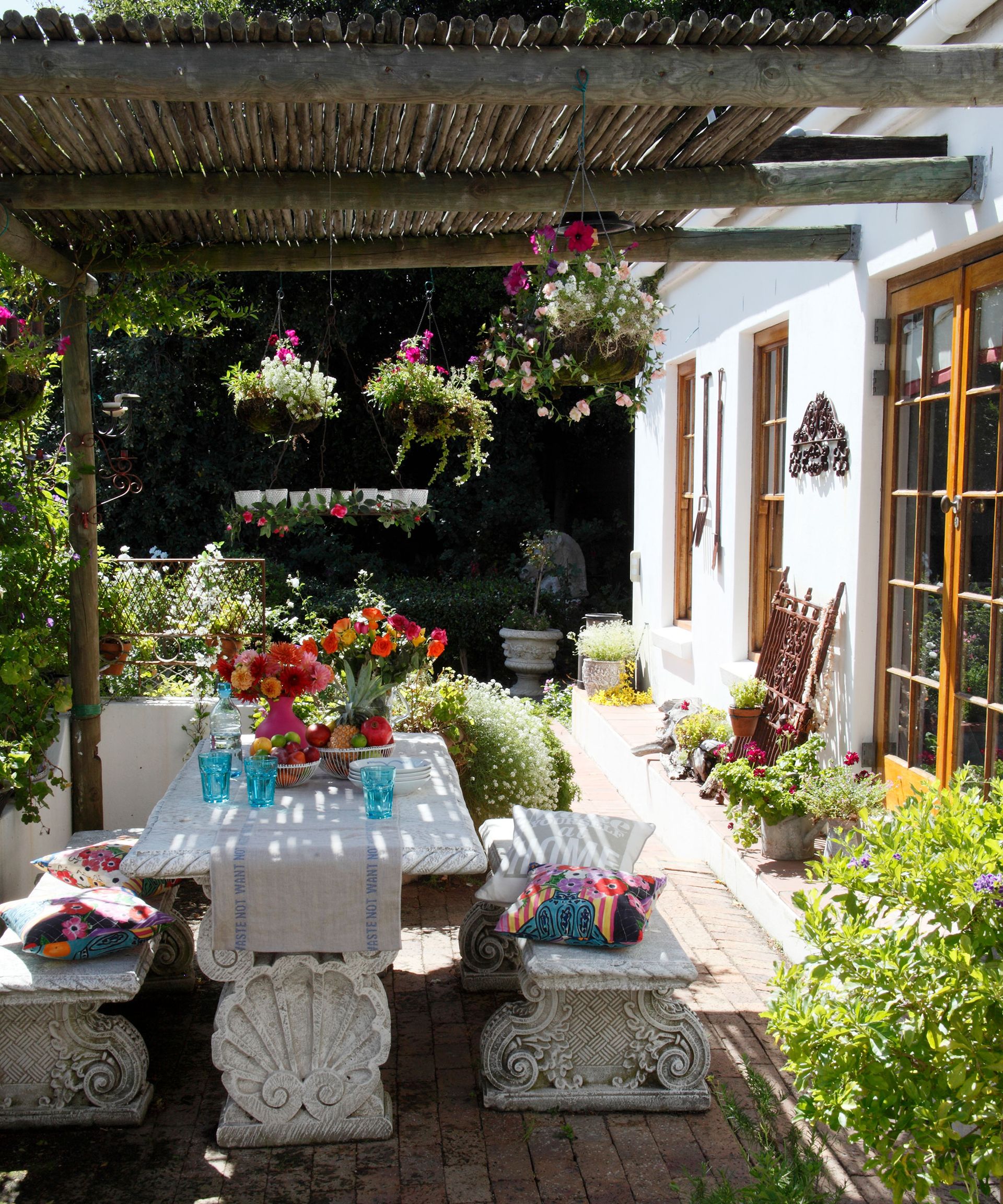 (Image credit: Future / Simon Scarboro)
Pergola ideas can work well as both patio cover ideas in sunny spots, or placed in shady spots, depending what time of day you will use it the most. 
'If you have a south-facing garden, a partially enclosed pergola can create a tranquil retreat and offer respite on a hot summer's day,' says garden designer Katrina Kieffer-Wells.
It is important to get the proportions right. 'Consider what you want to do under the pergola and make sure you have enough space. Measure any furniture for an outdoor seating idea you are planning to place within the structure and ensure that you allow enough room for people to move around comfortably.'
The Mediterranean-style garden space shown above has been transformed into a sun-baked, shaded seating area by incorporating beautiful patio planting ideas, with scented climbers and hanging baskets brimming with colorful perennials. 
9. Make an outdoor kitchen area under cover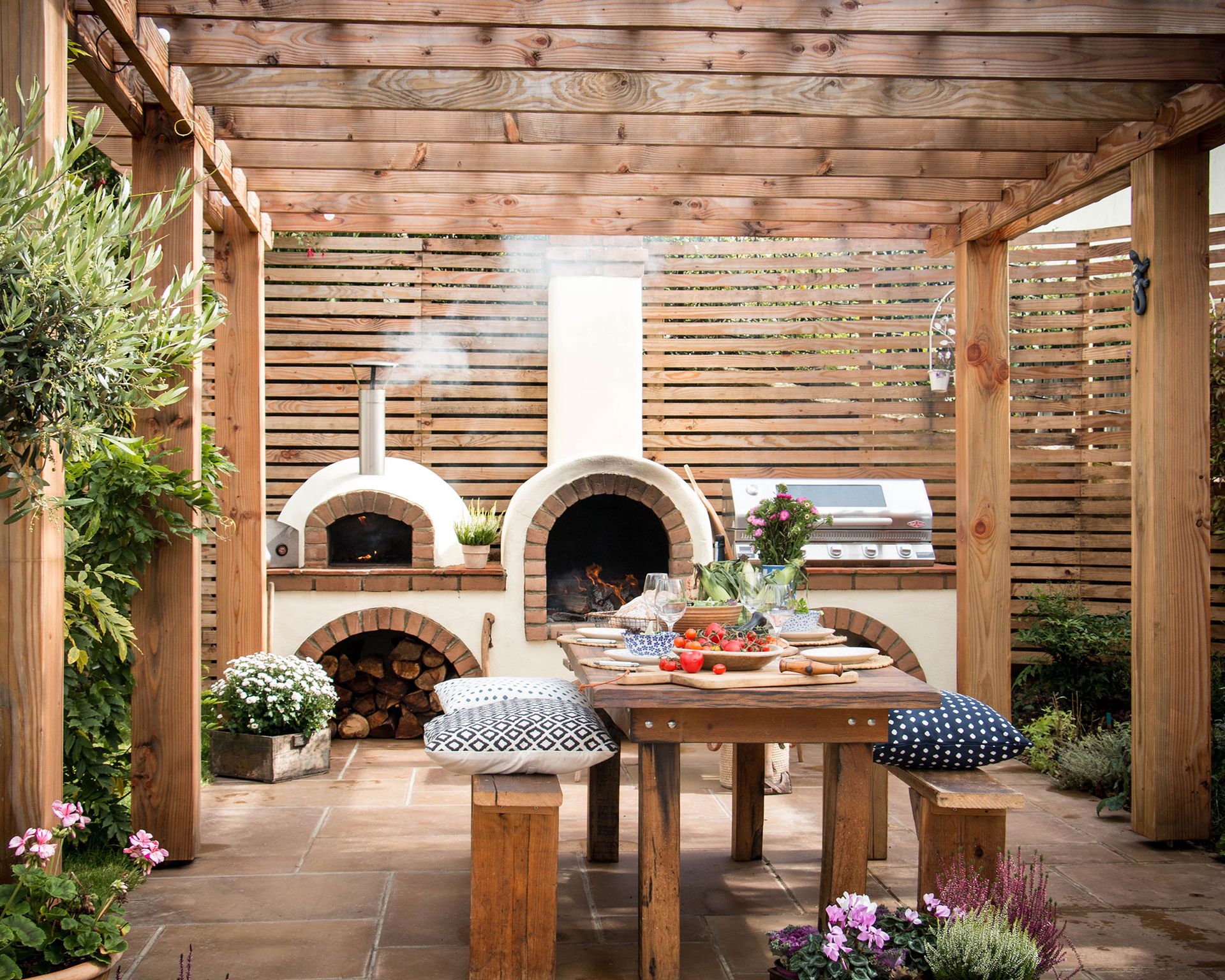 (Image credit: South Hams Fencing & Landscaping)
Although the dream of cooking outdoors on sunny days is appealing, it's much more practical and comfortable to use pergola ideas for offering shade in an outdoor kitchen space. 
'If your garden doesn't have a covered spot that offers protection from the sun, you can create a shaded pergola, or grow wisteria and vines up your pergola to provide beautiful dappled light and relief from the heat,' says Wayne Cocker, director of South Hams Fencing and Landscaping (opens in new tab).
'Or for more consistent shade, sail type screens can be attached to the underside of the pergola roof,' adds Fi Boyle.
10. Use pergola ideas to zone your garden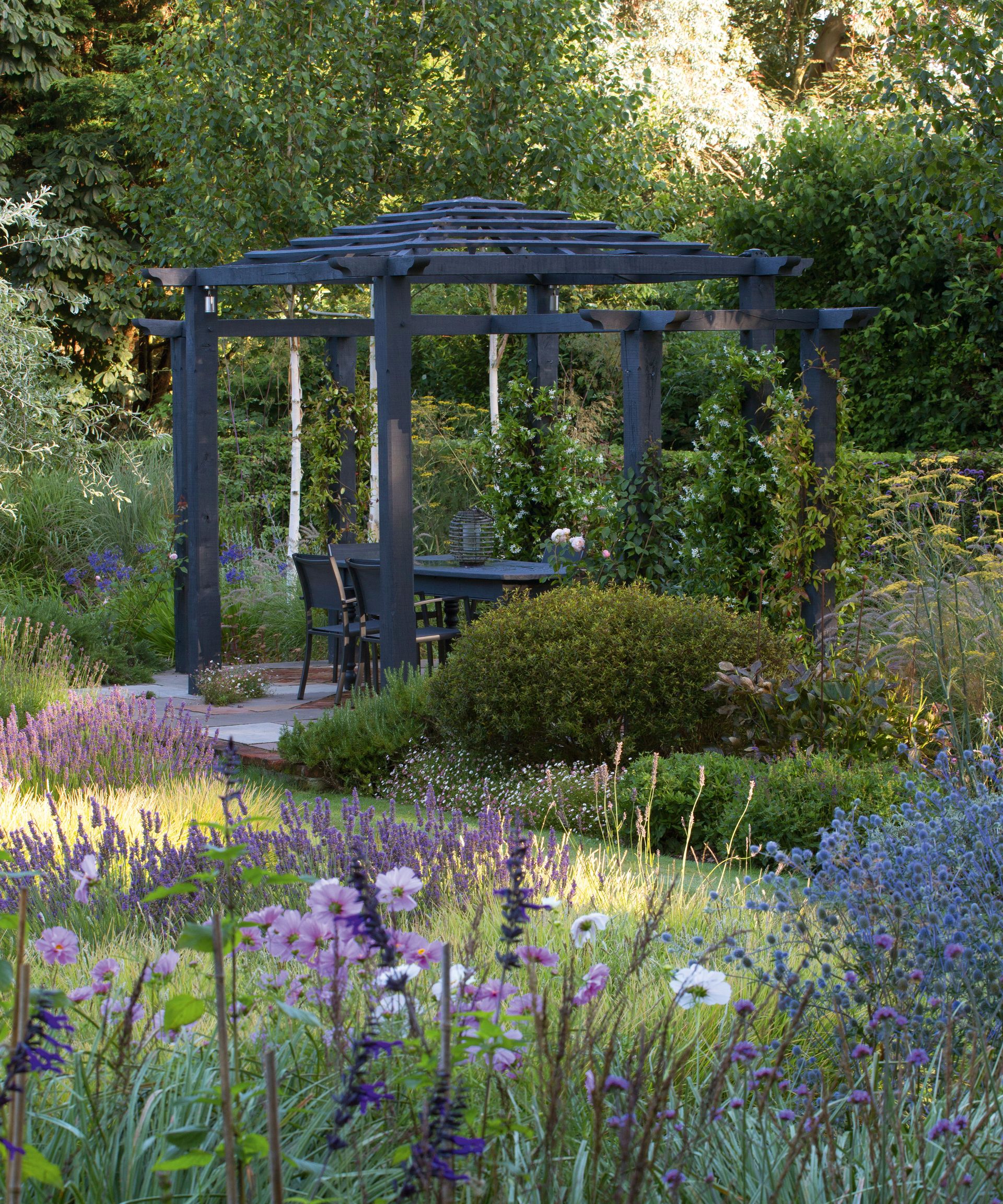 (Image credit: Leigh Clapp)
The use of pergola ideas for garden zoning is multifold. 
'Pergolas can be used to transition from a patio area to the lawn,' suggests garden designer Ali Paterson (opens in new tab), providing a view through to the garden beyond.
Placed over a dining area, a pergola can create a feeling of privacy and separation. 
As structures, pergolas can create a sense of division but without creating a blunt delineation of the space as garden screening ideas. 'They can be used together with planting to screen something beyond and bring the eye back into the garden. Or they could be used as a series of arches to frame a path way,' says Fi Boyle.
They can also link the house with the backyard as a garden wall idea. 'Sometimes a straight wall can look a little severe, but a pergola helps ground the building,' explains John Wyer.
11. Design a scented walkway with a pretty pergola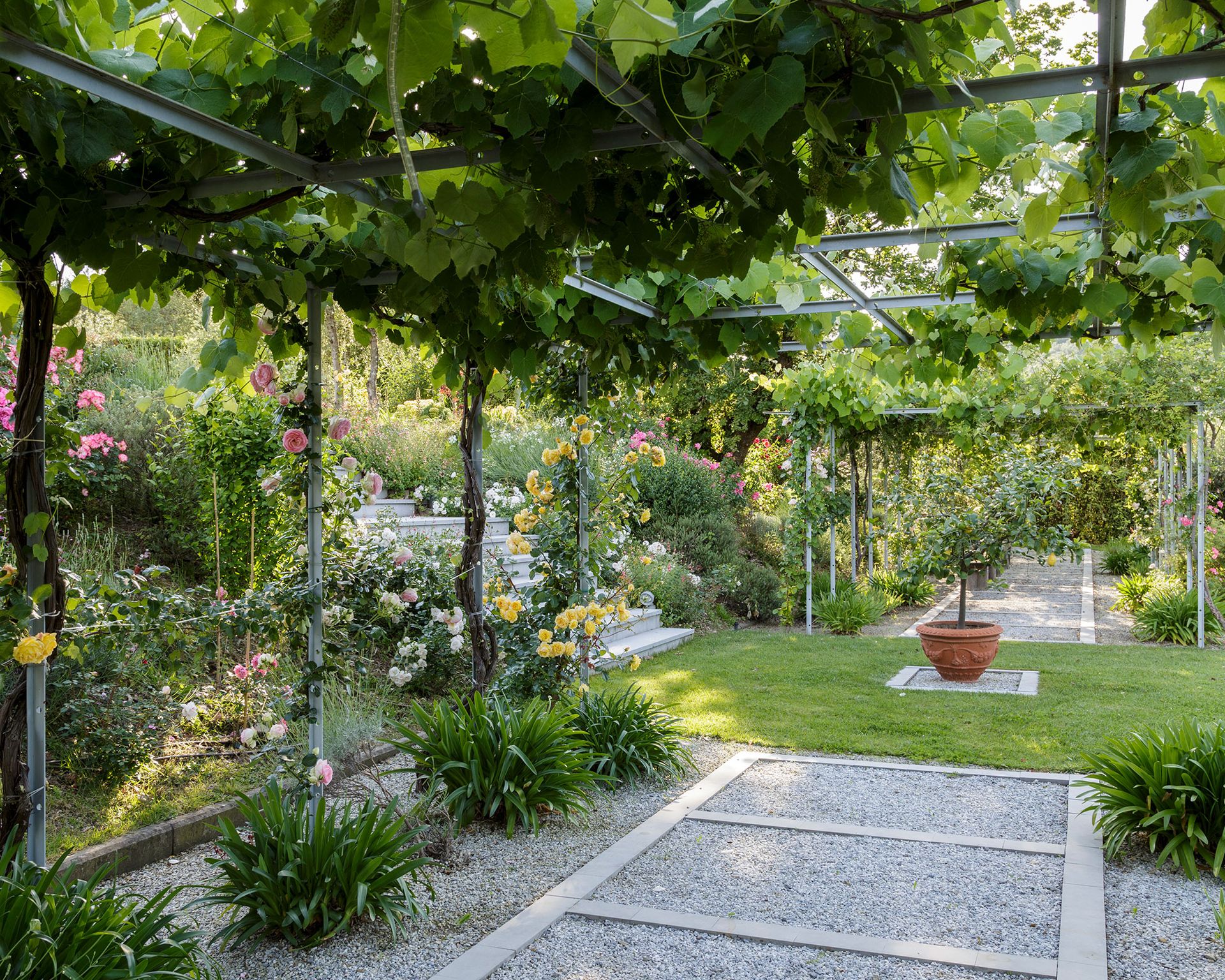 (Image credit: Future / Mark Bolton)
Garden designer and consultant Rebecca Smith (opens in new tab) recommends a pergola that arches over a path through the garden to create a shaded and scented tunnel. 
You can create a sense of romance with where you choose to place your pergola ideas, and clothe the structure in fast growing flowering vines or evergreen climbers for an added dimension.
'In a long garden, a pergola placed at the end of the space can create a destination for different times of day, and can also help screen a garage or garden shed,' she says.
12. Build a traditional wooden pergola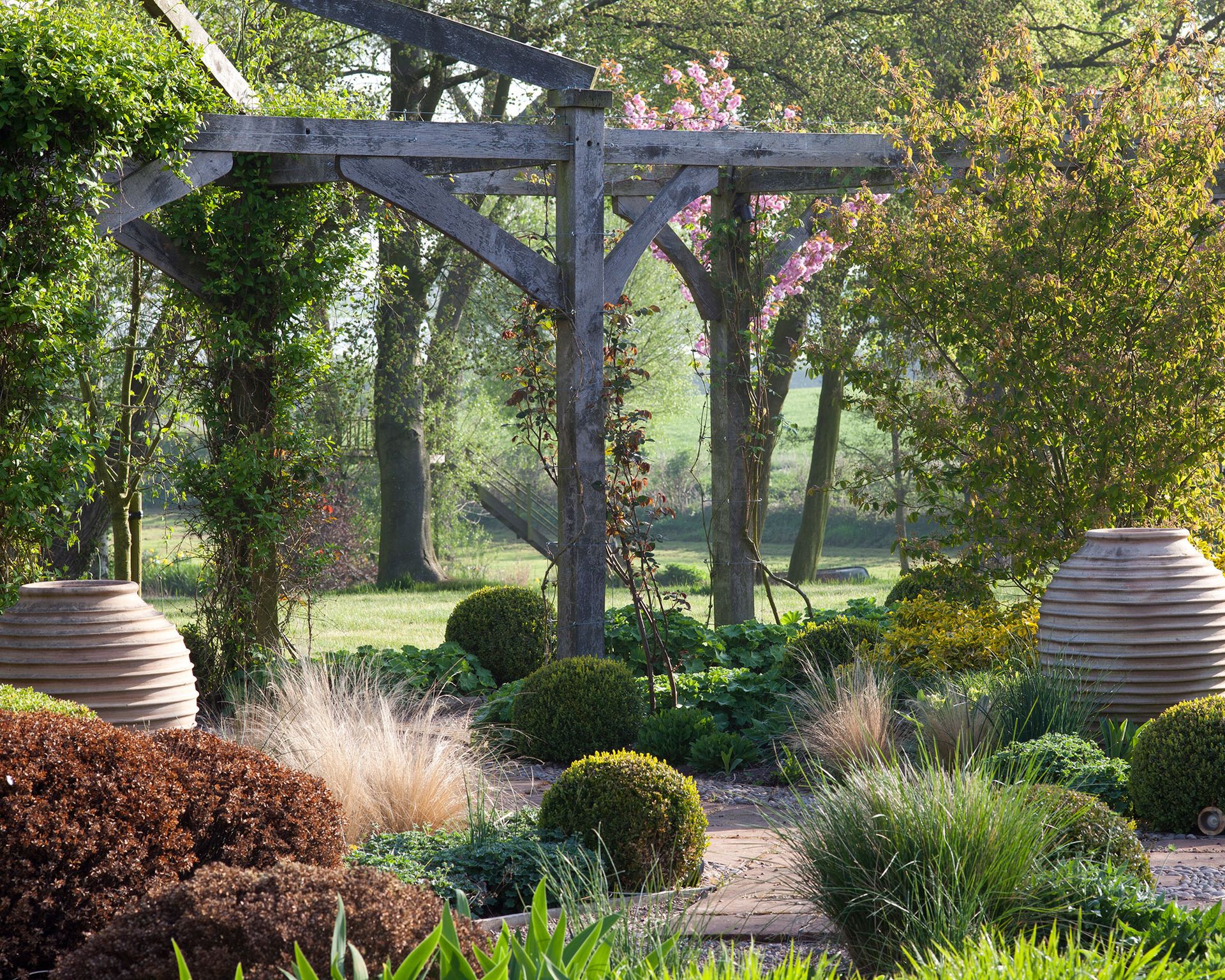 (Image credit: Future / Mark Bolton)
Timber is the most commonly used material for pergolas – western red cedar, iroko and oak are all popular choices right now. 
Although it is possible to lay a patio yourself, whatever material you choose for your pergola ideas, it's crucial that your pergola is specified and built by a professional. It will have to withstand the weather and the weight of the plants – so factor professional pergola instillation into your overall patio costs.
When considering what material it will be made of think about how it will be fixed to the ground so that longevity is ensured.
'If you're using timber posts, it is best to use a steel shoe, otherwise the post will tend to rot at soil level. If you're going for the arts and crafts look, try using brick columns with timber beams, although I would suggest running some steel reinforcement up the centre of the brickwork,' suggests John Wyer.
13. Choose a more contemporary pergola design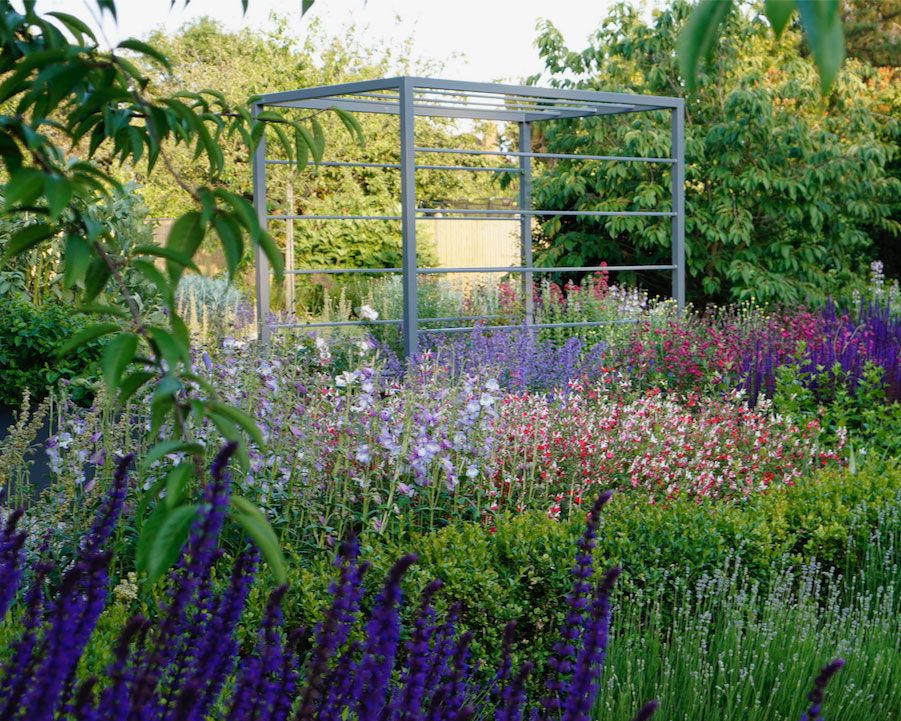 (Image credit: David Loy/ Your Garden Design)
'Sometimes we use metal or even charred oak if we are going for a slight more contemporary feel,' says Charlotte Rowe. 
Simple steel structures can be very effective, such as this contemporary pergola idea by David Loy of Your Garden Design (opens in new tab).
'You can achieve a more modern look with a wooden pergola by squaring up the ends and corner. Or it could be constructed out of metal to give it a clean modern feel,' explains Fi Boyle.
Corten steel will weather to develop a beautiful deep orange rusty patina, or powder coated or paint metal will create a more slick look. 
14. Set up a secluded spot for al fresco dining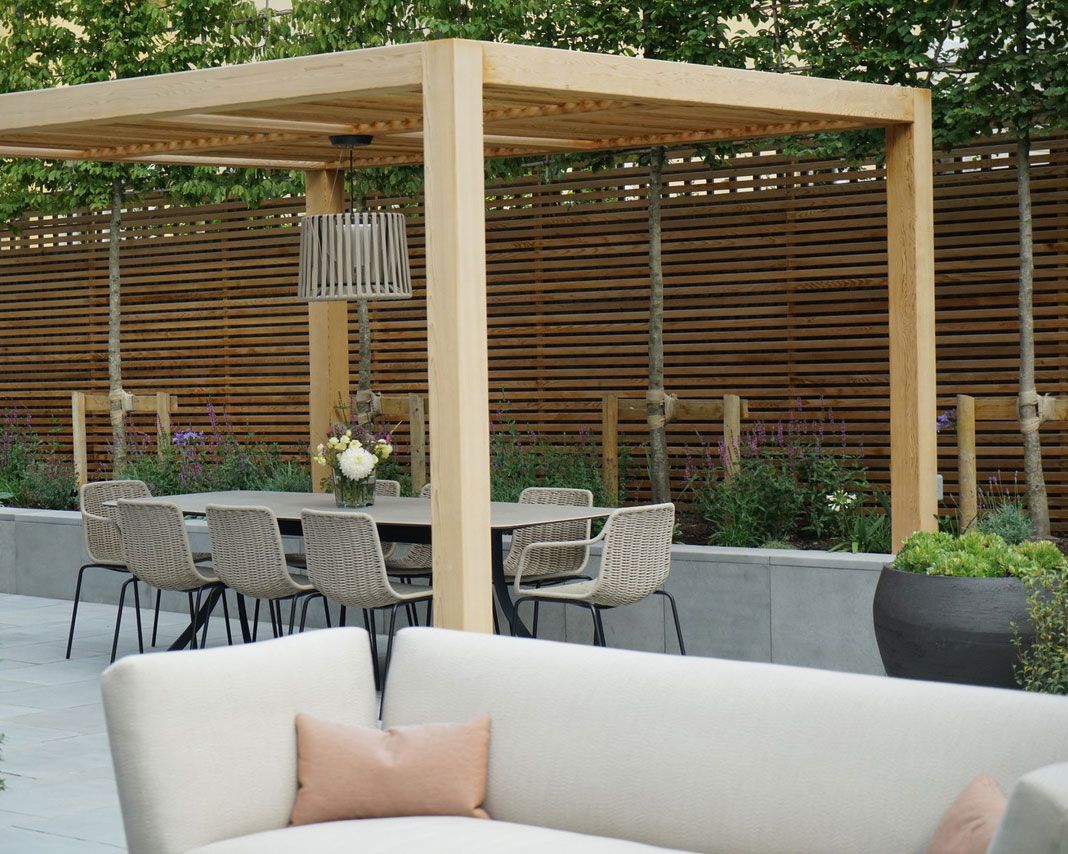 (Image credit: Farlam & Chandler)
When designing a patio and pergola area for dining, consider building it out from an exterior wall to maximize the feeling of flow.
'Setting the back of a pergola against a hedge or border is a nice way to make the space feel enclosed from the rear and this could be extended part way or all the way down the sides,' suggests Fi Boyle. 
'Cantilevering a pergola over an outdoor kitchen looks lovely, and with supports only on one side allows for freer movement around and underneath it,' says Kate Gould. This creates more space for a variety of patio furniture ideas under your pergola.
A pergola in a dining area can make a cozy night-time feature with the addition of the right ambient patio lighting ideas and hanging drapes.
'Hanging a simple pendant from the pergola will bring light to extend the use of the space into the evening,' suggests Harriet Farlam.
15. Dress a pergola with wisteria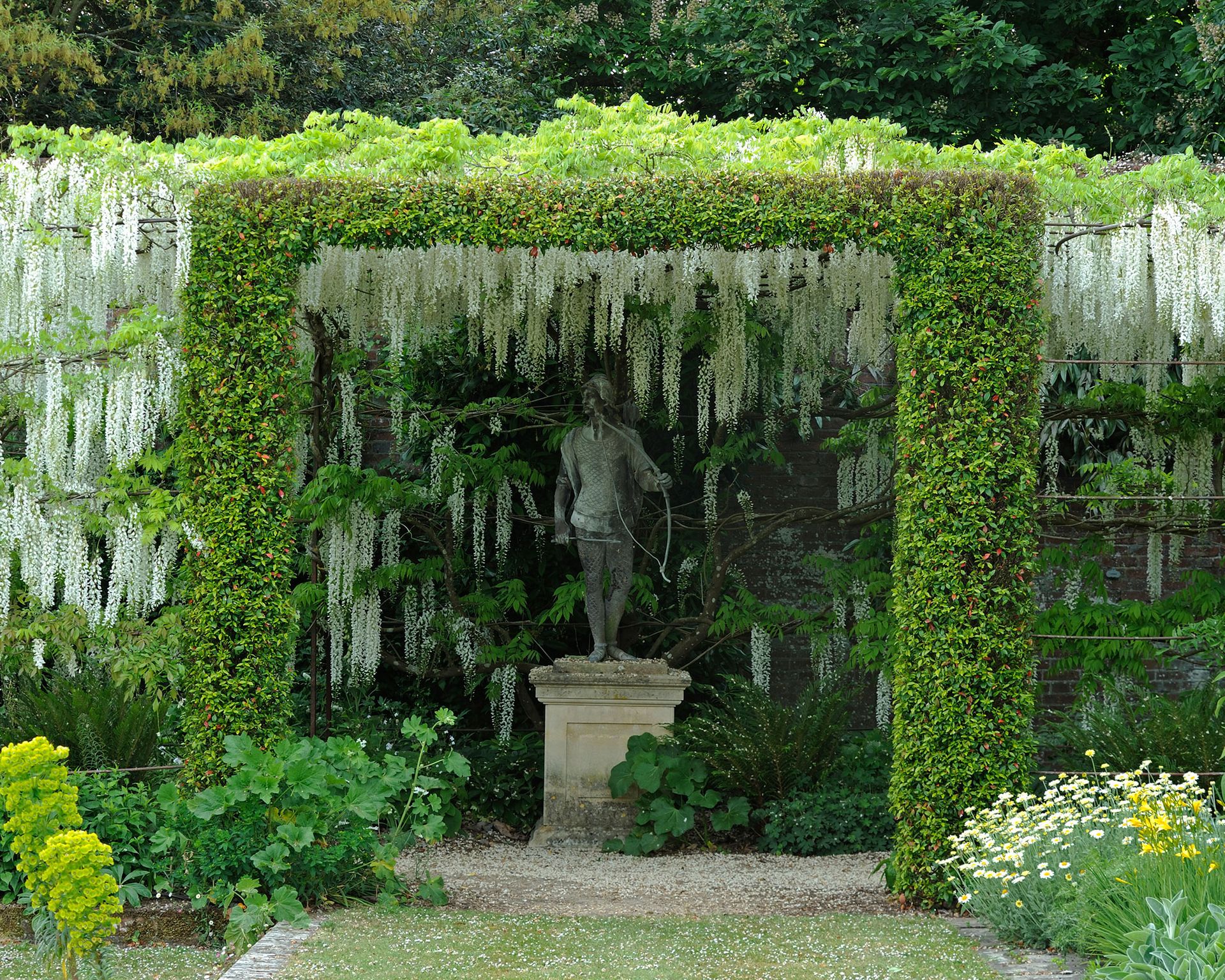 (Image credit: Future / Val Corbett)
Wisterias and pergola ideas are a match made in heaven. The wisteria family has around ten species; favorites are Wisteria sinensis and Wisteria floribunda. They are deciduous, with sweetly-scented flowers in shades of white, purple, blue or pink. 
It is easy to learn how to grow wisteria. Wisterias need sufficient sunlight to flower well – not less than six hours a day – and grow best in a south or west-facing position. Once established, wisterias are vigorous, but can take a few years to get going. 
'Wisteria is great for pergola ideas, because it is robust, long lived and produces lots of scented blossom,' explains John Wyer.
A pergola has to be sturdy to take the weight of a mature wisteria. The final result is simply beautiful though – a froth of pure white flowers and fern-like foliage that looks stunning in quite dense shade.
16. Indulge in poolside shade with a well-placed pergola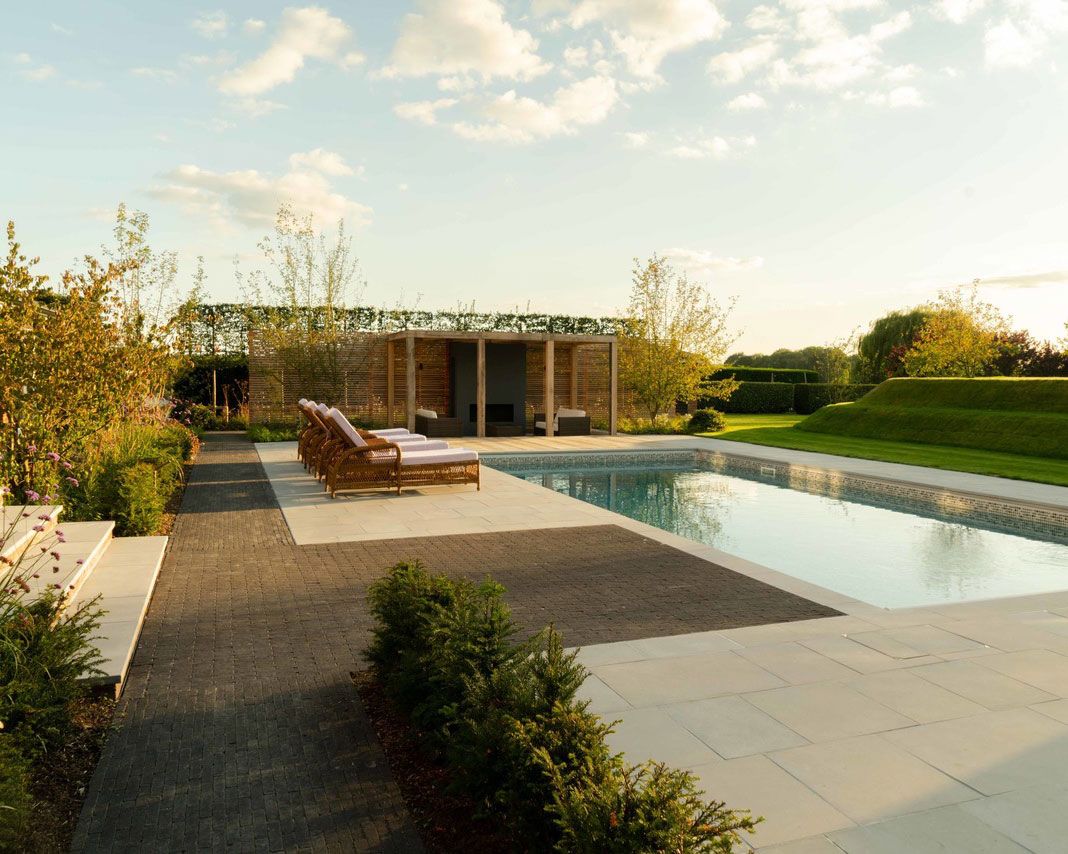 (Image credit: Farlam & Chandler)
Incorporate a pergola into your pool ideas to create the perfect place for poolside lounging. Drape your pergola with grape vines for dappled sunlight and a truly tropical feel. 
Alternatively, take inspiration from Mediterranean garden ideas and plant fragrant flowers like jasmine and lavender – as their perfumes are released, they'll conjure up happy memories of sun-drenched escapes.   
'However, it may be a very modern space with a clean minimal feel to it in which case surrounding it by planting may not be so appropriate,' says Fi Boyle. There are many pool shade ideas you can use in your design, from a permanent pergola, to temporary pergola canopies.
17. Use a pergola for shelter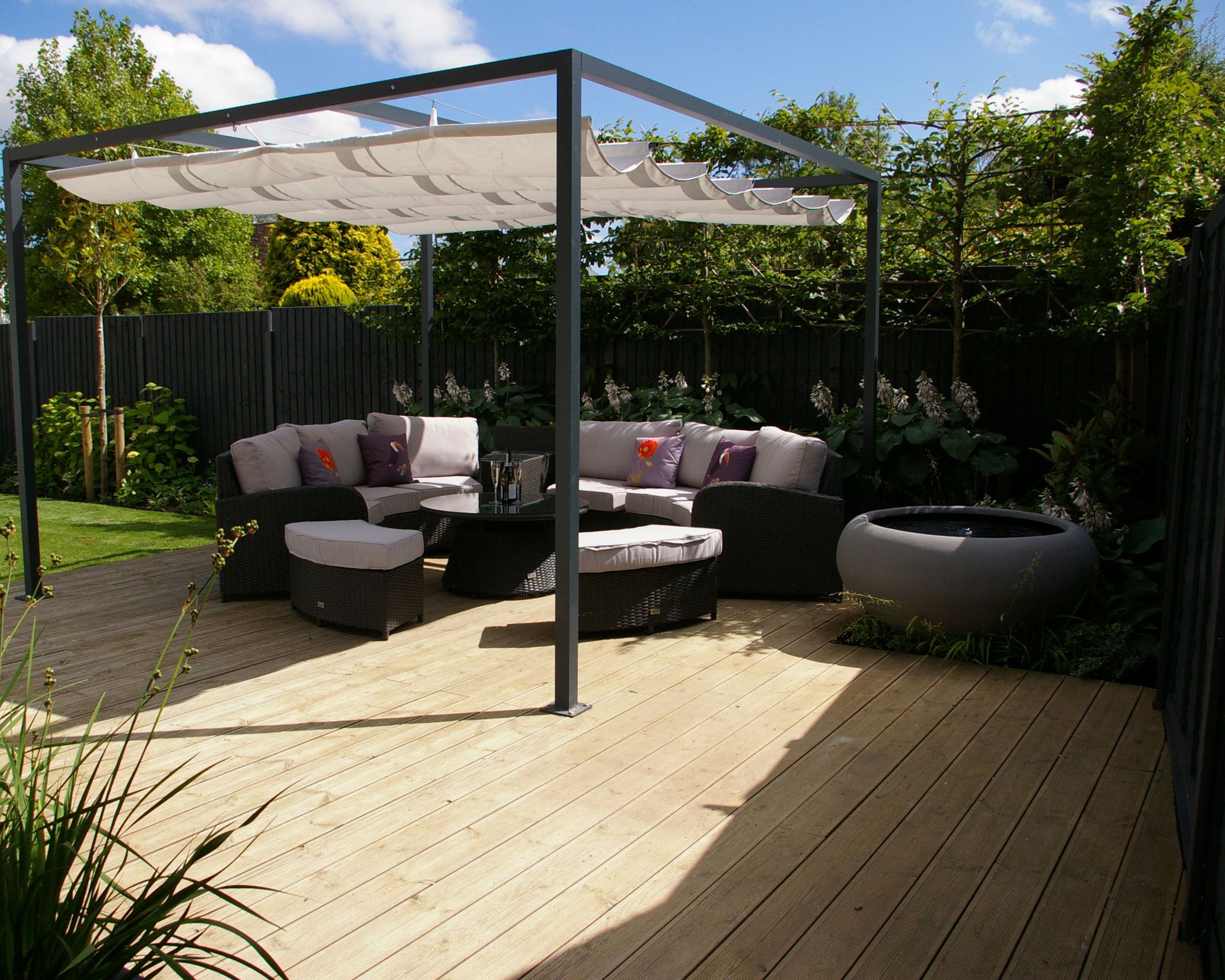 (Image credit: Barry Chambers/ Garden Design Guru)
As well as providing protection from the sun, pergola ideas can provide shelter from wind and rain – particularly useful if you live in an area where the weather is a little less predictable.
'We often hear talk of the garden as an "outdoor room" but rooms have ceilings, so creating the sense of a ceiling by having a more complete outline of a  room, makes a real difference to the feel of the space. With plant cover and panels or trellises a pergola can also provide shelter from the breeze,' explains designer Barry Chambers (opens in new tab).
'The canopy should be well located with good circulation if it is to be used year round,' suggests Harriet Farlam.
18. Make a small garden feel larger with a pergola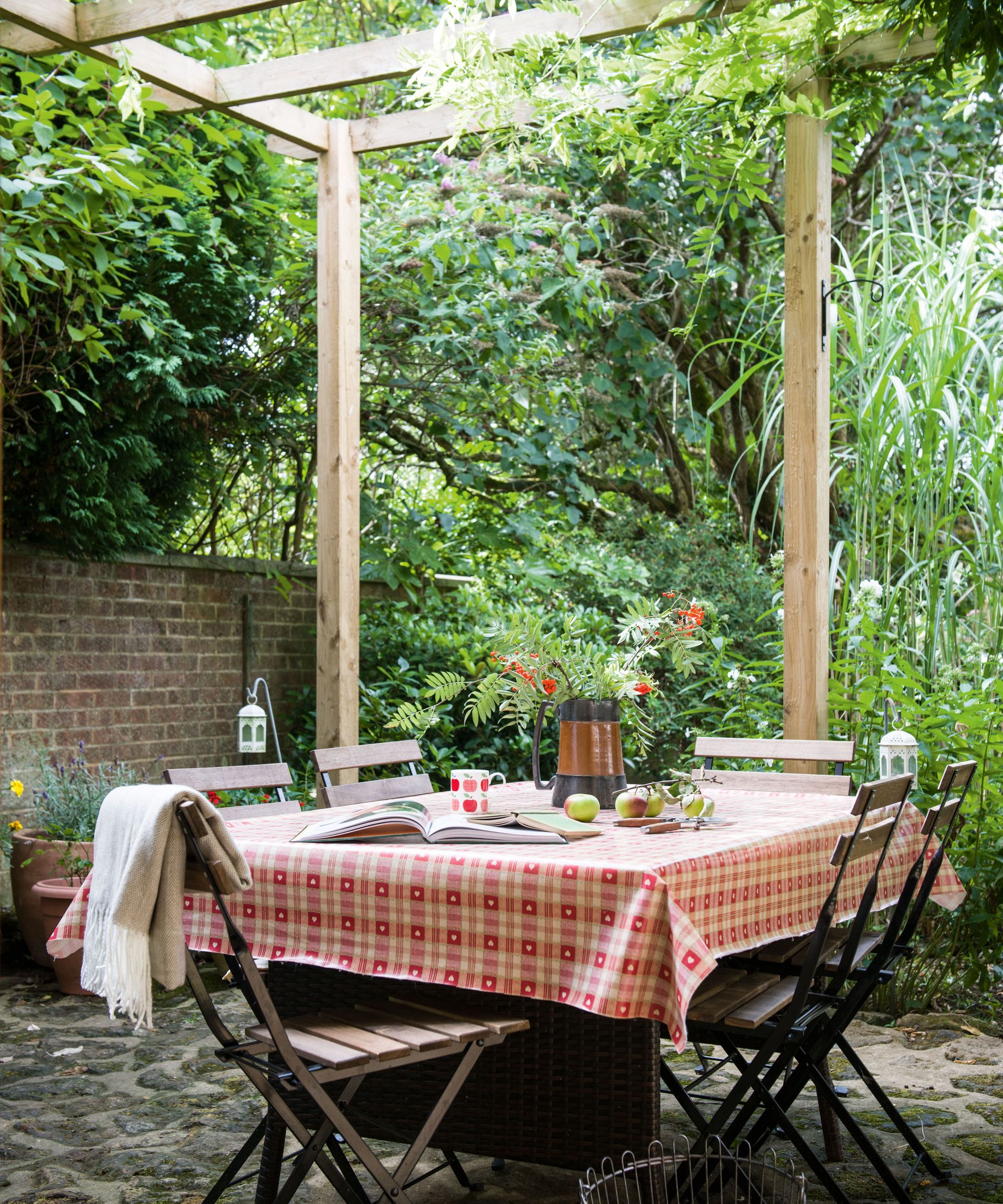 (Image credit: Jody Stewart)
'In small gardens, courtyard gardens, or small areas of larger gardens, a pergola makes the space feel much bigger without detracting from the usable area, especially if the pergolas legs, or some of them, are sat on a wall or in containers or a border.' explains Barry Chambers.
A pergola creates more height, which gives the illusion of a bigger space and a subtle extra layer to the outdoor space. 
It also 'provides an opportunity for a small border or even containers to make a bigger statement, with climbing plants creeping up over the pergola, adds Barry.
19. Train climbing plants up a pergola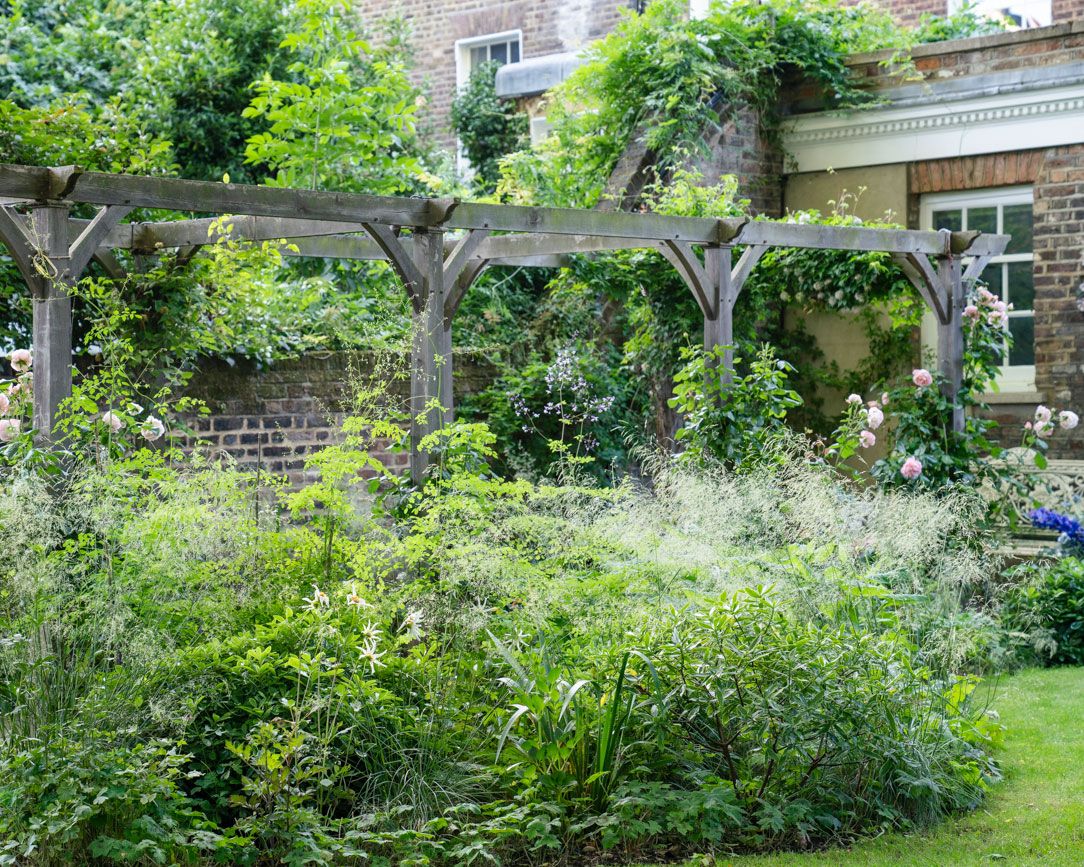 (Image credit: Jo Thompson Garden Design)
In a more traditional setting, adorn a pergola with some of the best flowering climbers for additional screening and a more natural aesthetic. 
In this beautiful garden design by Jo Thompson, the traditional wooden pergola creates a slightly separate garden space for a guest room, surrounded by fragrant roses. 
'I have planted roses and clematis carefully selected to give color through as much of the season as possible – starting with the early alpinas and ending with the viticellas.  A range of roses are used again to give an extension of color for as long as possible – including 'Madame Alfred Carrière', Rosa banksiae var. banksiae and Rosa 'Albertine',' Jo explains.
'Training wires up the posts can help twining plants establish more quickly. If you're planting in paving, make sure the climbers have plenty of space to root into,' explains John Wyer. 
The supporting wires may need to be considered within the design both on the horizontals and verticals. 
For choices in plants, 'wisteria is robust, long lived and produces scented blossom; Akebia quinata, or chocolate vine, has scented purple flowers and five-part palmate leaves; or try perennials Humulus lupulus  'Aureus', golden hop, or flame nasturtium Tropaeolum speciosum,' suggests John Wyer.
'In the long term, many climbing plants can get very big,' adds Barry Chambers. Consider less vigorous varieties so there is less need for pruning in the future. 'A deciduous plant, such as Jasmine officinale, will also allow a lot more light through in winter, which may be preferable,' he adds. 
20. Add vertical interest with pergola ideas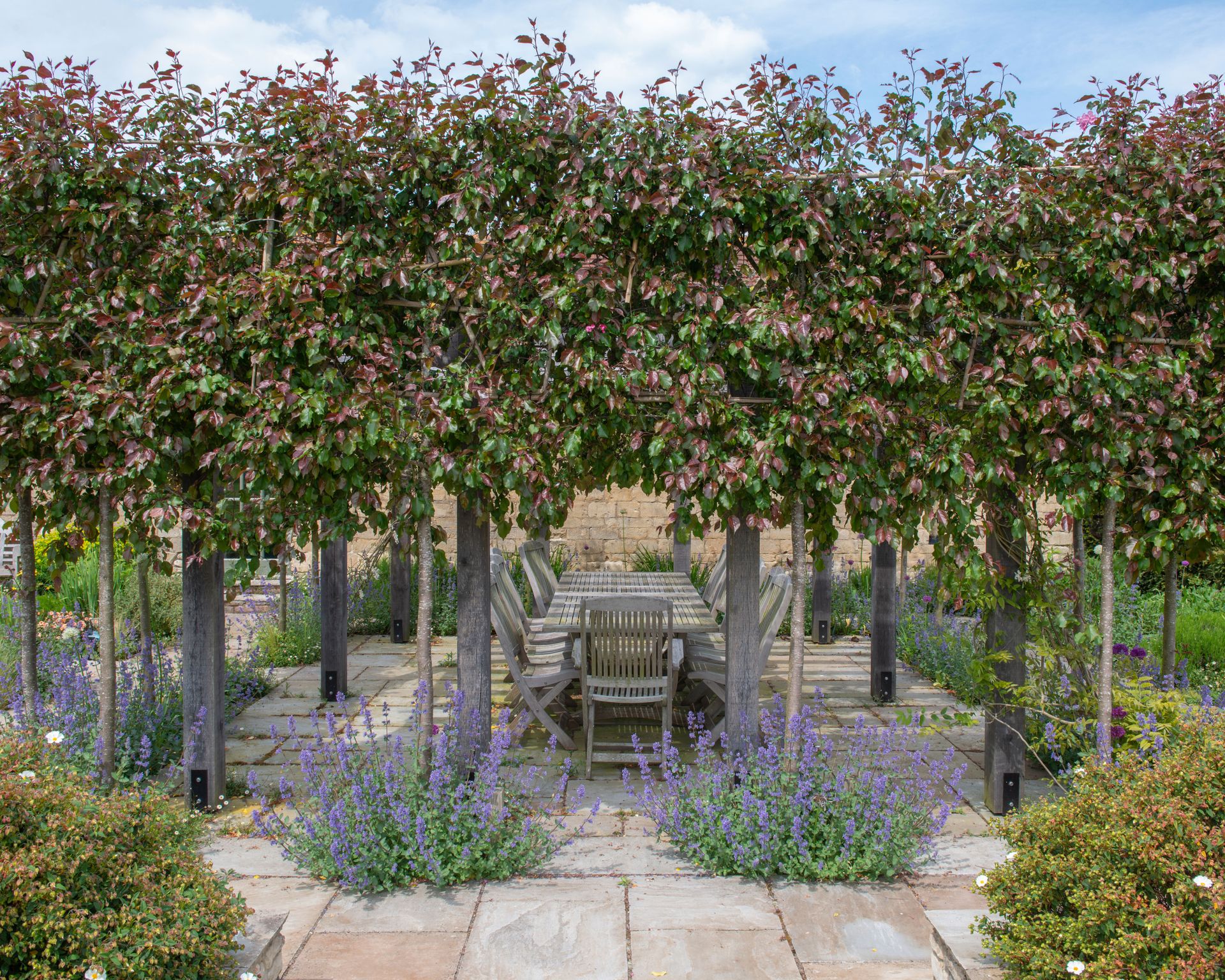 (Image credit: Fi Boyle Garden Design)
Pergola ideas undeniably bring vertical interest to a garden. 
'The style of the garden will dictate the most appropriate style and whether you want to set it within planting,' explains Fi Boyle.
'Often we plant trees around a pergola to help anchor it into the garden. A tall row of pleached trees or a multi-stem tree positioned either side will bring a softness to the structure,' explains Harriet Farlam. Try surrounding with trees to espalier or trellis ideas to add vertical planting interest.
Take into account, too, the additional space required by surrounding planting. 'You should anticipate the bulk of mature climbers, whether this be climbing roses or winter jasmine, which might need two to three feet clearance underneath,' explains Ali Paterson.
21. Instal a swing seat in a pergola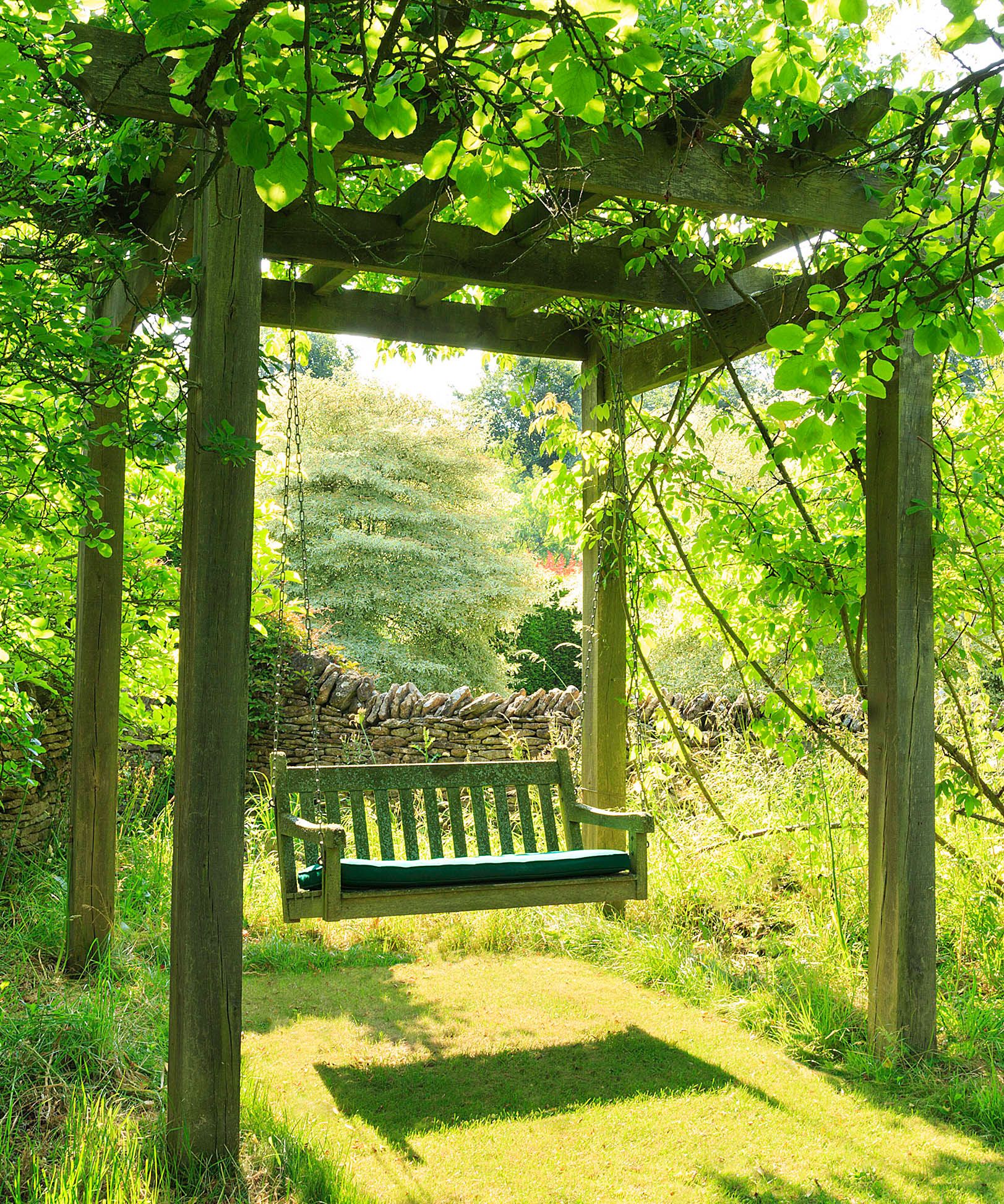 (Image credit: Ali Paterson Garden Design)
In a quiet corner of this  bucolic country garden a delightful haven has been created to sit and watch the roses grow with this pergola idea built to accommodate a swing bench – which is particularly suited to a cottage backyard idea.
'The gentle rocking can have a wonderfully calming and peaceful effect, and is popular with all ages, from small children to grannies,' explains the designer Ali Paterson.
'A rambling rose was trained over the top of the pergola to add delicious scent to the area in summer,' Ali adds.
How do you style an outdoor pergola?
There are many ways to style an outdoor pergola, depending on the reason why it has been included in your garden design.
If it is intended as an area for relaxing and entertaining, then a mix of comfortable furniture, soft furnishings and accessories and some form of outdoor string lighting can easily transform it into a welcoming and stylish outdoor area.
For a contemporary garden design you can leave the structure of the pergola bare for the clean lines of a more minimalist look, while climbing plants or trailing plants for hanging baskets soften the look of a more traditional structure and garden setting.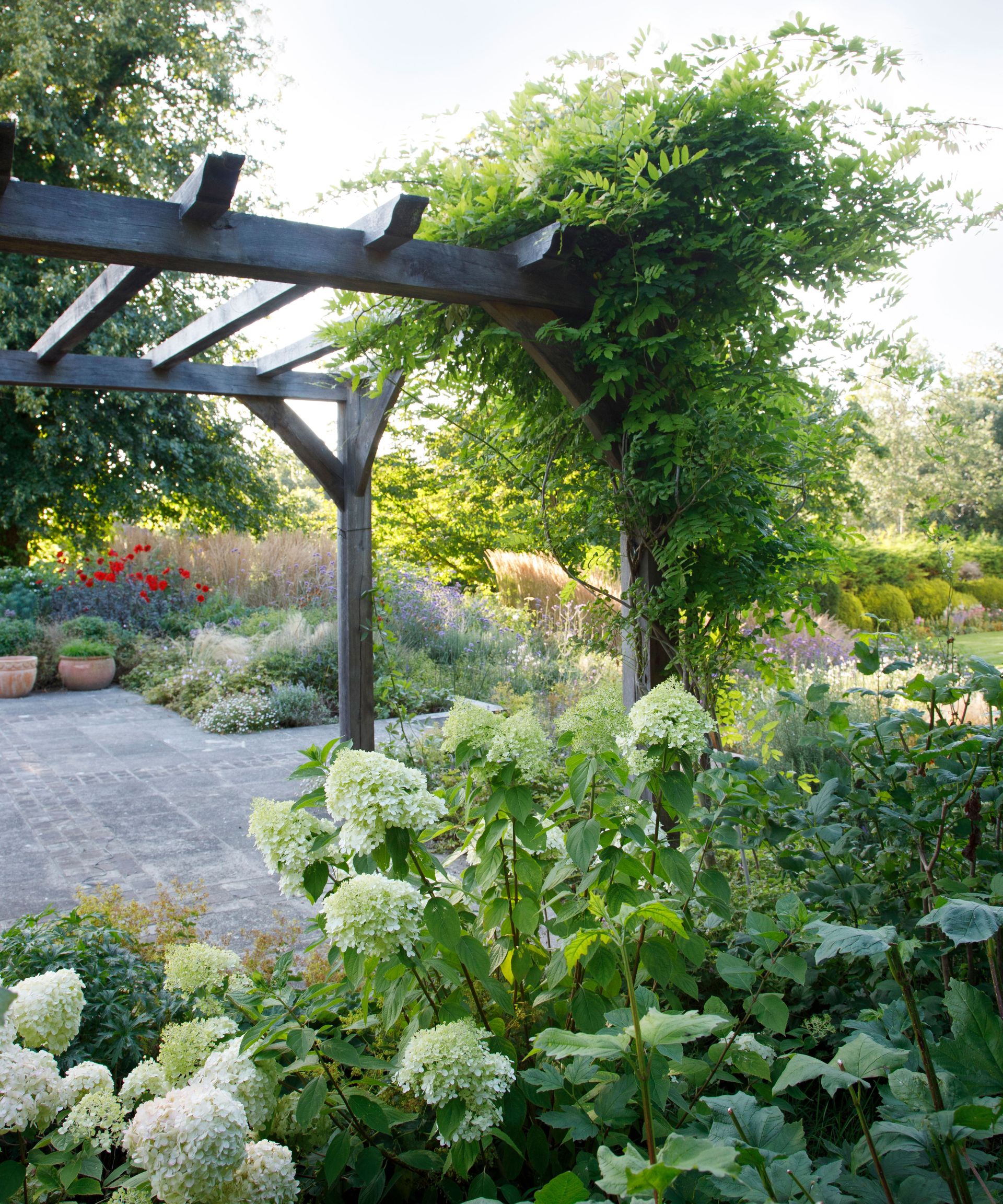 (Image credit: Annaick Guitteny)
Is it cheaper to build a pergola or buy one? 
Whether it is cheaper to build a pergola or buy one will depend on the style and size of the pergola and the chosen material.
'You can find box section prefabricated aluminium and steel structures on the market, although these can be quite expensive,' explains John Wyer.
Simple wooden structures can be more cost effective, although you need to ensure that it will be the correct size and look for your garden.
'Installing pergolas requires some technicalities and it's important to ensure the structure can withstand high winds amongst other things – I'd recommend getting professional advice on this,' advises John Wyer.
What is the point of having a pergola?
It is important to think what you want your pergola ideas to bring to the use and look of a garden. Is it to be used to create a shady spot for summer lunches or perhaps to screen a terrace from neighbors? 
Garden designer Rebecca Smith MSGD advises playing around with bamboo stakes beforehand. 
'Will the pergola block a nice view from an upstairs room or will it help to hide an eyesore? It is much better to play around with the site before committing to the build to ensure the pergola is in the best place,' she says.
Garden designer Kate Gould highlights further considerations. 'It is easy to assume that you can do anything you like in your garden, but there are elements that may require planning permission. Pergolas often fall into this category if you live in a conservation area or if your property is listed.' 
So make sure you investigate and make enquiries beforehand.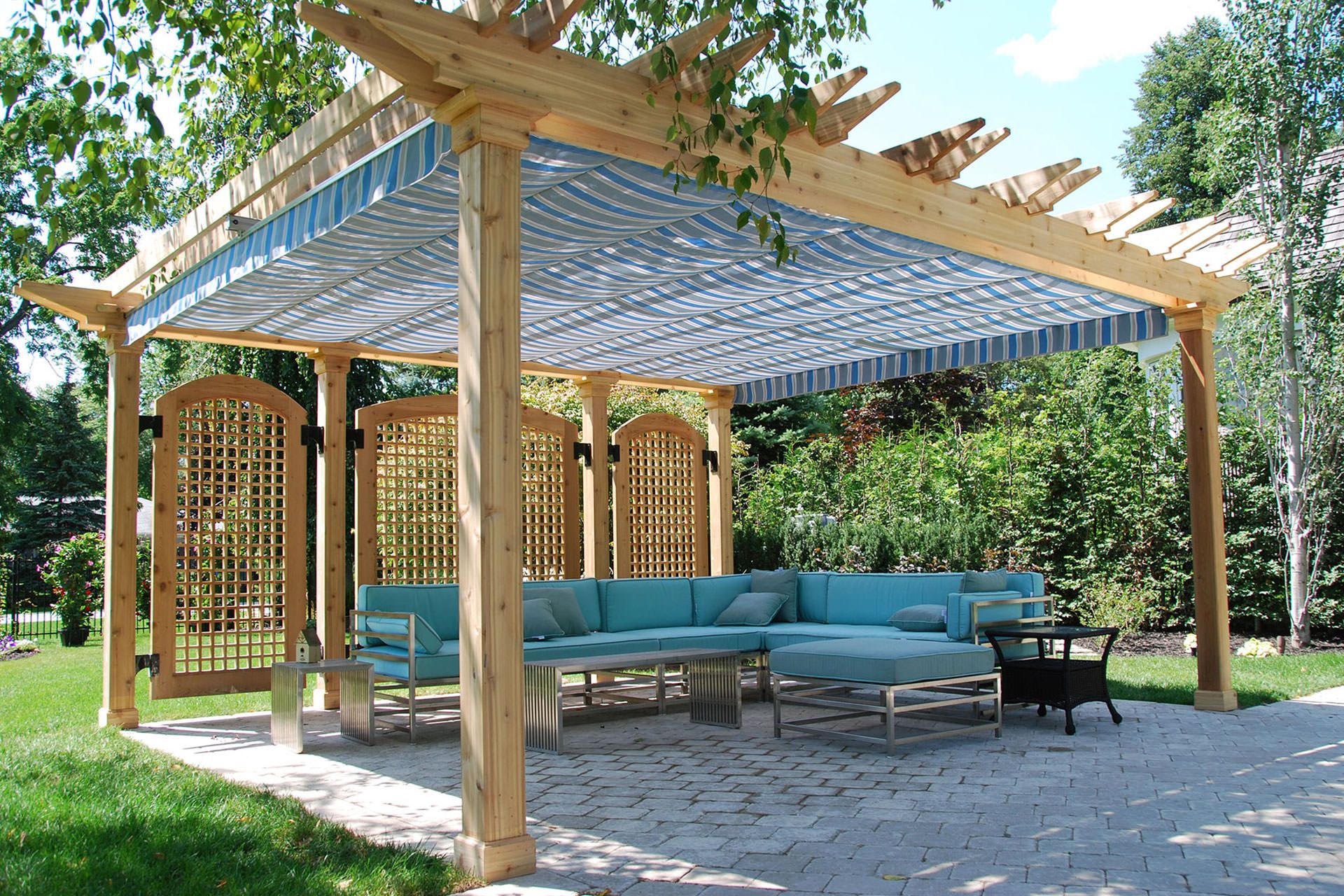 (Image credit: ShadeFX)
Do pergolas block sun?
A covered pergola is a great way to block the sun. However, they are not built for complete protection from the rain. 
There are a variety of ways that a pergola can provide shade. This can be by training climbing plants over it, such as wisteria or evergreen climbers. A slated roof will provide dappled shade, or sail type blind fittings can be added to the roof section to provide more consistent shade. These type of shades can sometimes be attached to runners so that they can be drawn back when the area of the pergola is not in the sun, to allow more light into the area This us especially useful if it is to be used for dining.