old stone walls show through glass panes of a studio by martin rajniš
the tiny timber studio
czech studio huť architektury martin rajniš (HAMR), known for towering observatories and monumental installations, now unveils its tiny 'studio above the river.' nestled between a grouping of stone houses, the lightweight structure of timber framing and glass counteracts the heaviness and rustication of its surroundings overlooking the sázava river.
the design team takes advantage of the old stone walls, as the tiny studio abuts against them. the texture of the stone is expressed through the light glass walls on two sides, adding a depth of material layers and visual connection to the site. this strategy further serves to celebrate the warmth of the sun — while the glazing allows natural sunlight to flood its interiors, the stone walls beyond absorb the heat and release it later in the evening.
images courtesy of HAMR
architecture born of thoughtful solutions
with the design of its studio above the river, the team at huť architektury martin rajniš (HAMR) (see more here) makes the most out of limited space and budget. the lightness of the structure is a direct result of this concern for cost, and sees the use of 180×30 millimeter spruce wood profiles. the integration of the stone walls heightens the interior experience while minimizing both energy and material usage.
the architects tell design boom: 'to us, signs of natural architecture include variability, connection of the interior with the surrounding country, choice of natural materials, and lightness of structures related to the price.'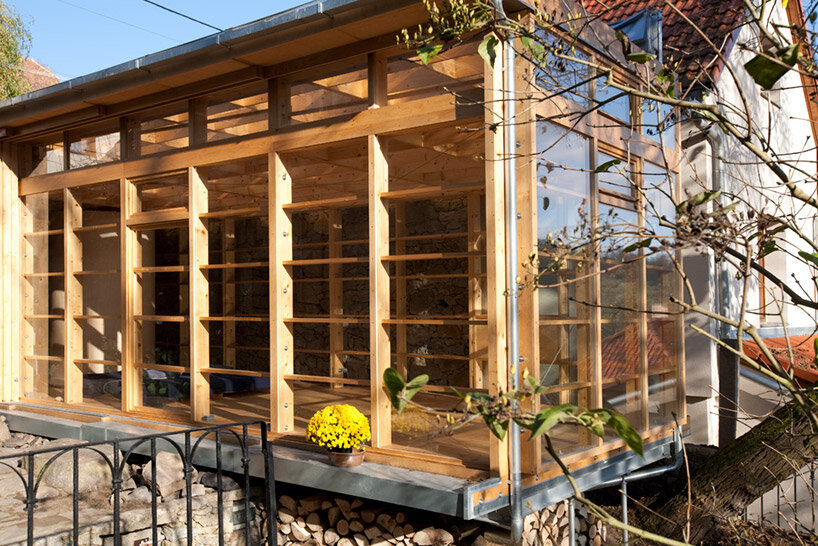 the structure by martin rajniš
huť architektury martin rajniš (HAMR) notes the structure of his studio above the river. the beams are doubled at the joints and bolted at the corners via plywood panel points. there is an area underneath the house which has the utility connections in it. the wooden frame is set on a pair of heat-galvanised I-profiles, and both the walls and the ceiling are glazed. the team notes: 'even though I'm in a pretty house, I still find it best to look out.'
this glazing is made with single panes, enhanced with sliding thermally insulating panels. the side wall can be covered with thermal insulation from the outside; the ceiling insulation slides inside the double roof cavity. the stone wall has a high rate of thermal accumulation. it can warm the area at night using the heat accumulated during the day. in summer, the whole roof can be shaded with perforated textile, and the interior can be ventilated using the chimney effect via a hole in the floor, using the relatively cool air from underneath the house.