Infantry Landscaping, An Atlanta, GA, Landscaping Company Experiences Record Growth in 2022, Sets Up to Continue the Explosive Growth in 2023.
PRESS RELEASE
Published January 26, 2023
Atlanta, GA – Infantry landscaping is a veteran-owned landscaping company based in Atlanta, GA, that has been providing top-quality landscaping services for many years. They specialize in creating beautiful and inviting outdoor spaces for homes and businesses throughout the north and northeast metro of Atlanta.
They have an experienced team of landscapers that are well versed in the latest industry techniques and can handle any job with ease. Their dedication to providing high-quality services, attention to detail, and commitment to customer satisfaction make them one of the top choices for landscaping services in the Atlanta area.
The Atlanta landscaping company's team of skilled designers knows the importance of formulating an aesthetic and functional plan, taking into consideration all design aspects, such as color, texture, materials, scale, and proportion, to create a space unique to each individual's needs.
The team understands the Atlanta environment and different locations in the city and recommends the perfect landscaping materials, including plants, that will work harmoniously with a client's outdoor space. They also factor in the soil, drainage, slopes, and sun-shade ratios to choose plants and elements that will ensure the landscape thrives.
"I was impressed at how my home's outdoor space was transformed from a dull and lifeless area to a beautiful and vibrant paradise. Their landscapers made sure I had the perfect outdoor space that reflected my individual needs." said a satisfied client.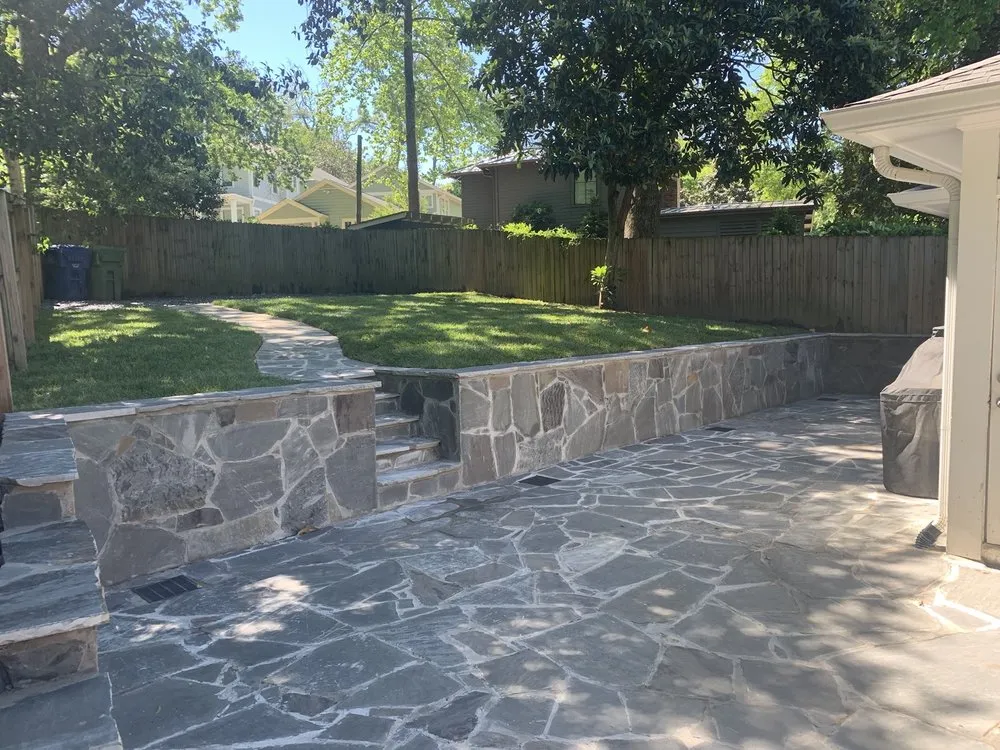 Infantry Landscaping offers ground covering installation including mulch, pine straw and decorative rock, to go along with sod installation, all of which are great ways to give any landscape a finished look while providing benefits such as moisture retention, weed control, and erosion prevention. Mulch, rock and pine straw not only enhance the appearance of a landscape, but also helps to retain moisture in the soil, preventing weeds from growing and controlling erosion on minor slopes. Sod installation allows clients to have an instant green lawn by way of installing grass on the soil's surface. These services, along with the company's landscape design services, tree and shrub planting, retaining wall installation, yard grading, outdoor living construction including kitchens and fireplaces, plus much more make them a one-stop shop for outdoor services at your property.
Infantry Landscaping strives to exceed its client's expectations. The team walks clients through the finished product at project completion and is always ready to answer questions, provide clarification, or address concerns.
Thanks to his commitment to providing quality and personalized services, Infantry Landscaping experienced immense growth in 2022 and is set up to continue the explosive growth in 2023. The team is able to respond to different clients' landscaping needs and encourages feedback, providing a superior customer service experience.
Property owners looking to have a more aesthetic landscape can contact Infantry Landscaping at (678) 539-8007 or visit their Facebook page to learn more about their services. The company is located at 3355 Lenox Rd NE Ste 1000, Atlanta, GA, 30326, US.
Media Contact
company name
Infantry landscaping
Contact name
Jose Fuentes Collazo
phones
(678) 539-8007
Address
3355 Lenox Rd NE Ste 1000
City
Atlanta
State
GA
post code
30326
Country
United States
site
http://infantrylandscaping.com/