BEEF architekti reinterprets mallorca's traditional stone walls with 'casa fly'
continuing the stone heritage of mallorca
Slovakian architecture studio BEEF Architecti takes to the Spanish island of Mallorca to realize its Casa Fly. The breezy residence is designed to honor the site's beautiful natural landscapes and historic, picturesque stone towns. The team comments: 'We came as unaware visitors, who learned step by step how to enter the Mediterranean territory with respect to the vernacular architecture.'
Reflecting the traditions of the island, the studio makes use of age-old techniques and materials, especially stones sourced from a local quarry. The house is at once defined by its textural stone facade, which takes influence from the typical stone walls found across the island, constructed by using the traditional dry technique known as 'Pedra en sec' — a strategy which in 2018 had been declared an intangible Cultural Heritage of Humanity by UNESCO.
images © Tomeu Canyellas | @tomeucanyellasphoto
beef architekti adapts to the island climate
The team at BEEF Architects (see more here) designs the facade of its Casa Fly for both aesthetic and passive performance purposes. With its massive openings, the facade helps to keep the house cool during the summer months while employing solar gain to retain the sun's heat in winter.
The architecture is informed by local climate conditions, integrating passive strategies for natural shading and ventilation. The windows are set back from the facade, using only the concrete slabs to shield interiors from the sun.
Meanwhile, folding wooden shutters serve as a secondary system of heat prevention. These elements are designed to reference the traditionals across Mallorca. Narrow vertical slats create a rhythmic play of shadows in the interior. Ensuring a breezy atmosphere, the slats' interstitial spaces allow for air circulation even while the shutters are closed.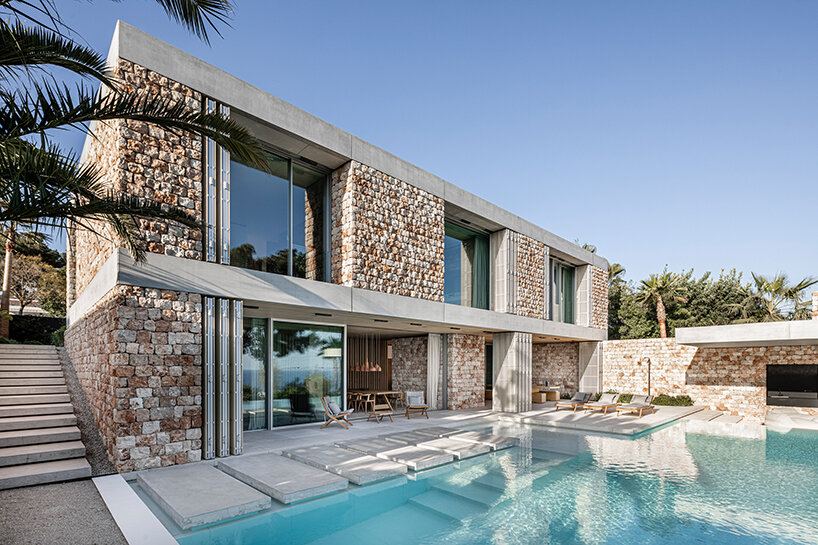 the natural finishes of the casa fly
BEEF architekti curates its Casa Fly to exist in harmony with the local architecture by using traditional materials, techniques and empirical principles. The stone facade continues fluidly along the interior to compliment the lime plaster 'Estuco de cal.'
The design team expresses its interiors with neutral finishes — primarily wood, local stone, and concrete — to celebrate and highlight the custom furnishings. Each material has a specific role in the design. The wooden slats alongside the staircase create a vertical axis or a 'skeleton' of the house.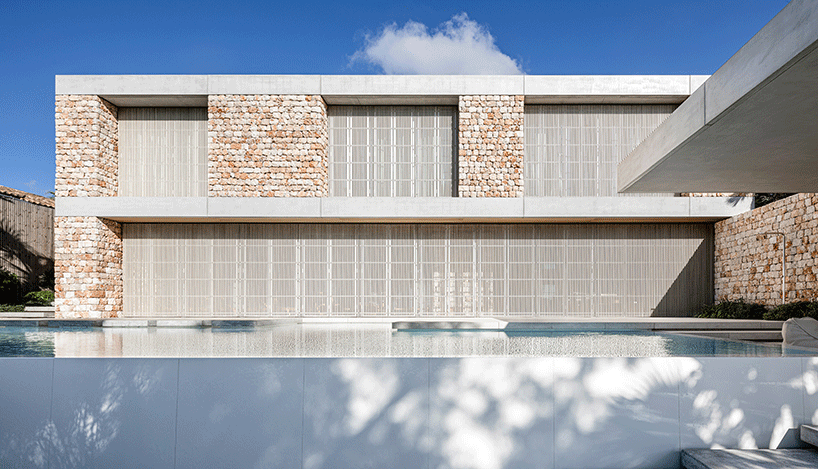 Operable shutters create shade during the hot days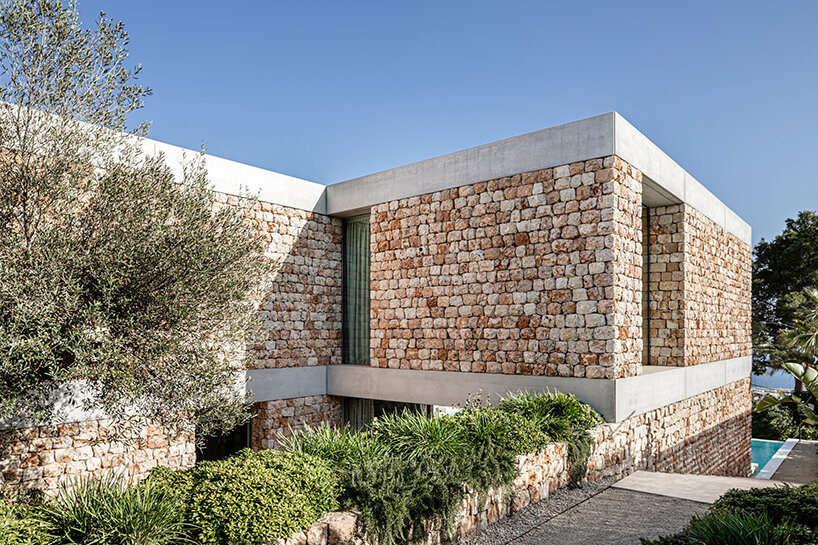 The architecture references the stone walls seen across Mallorca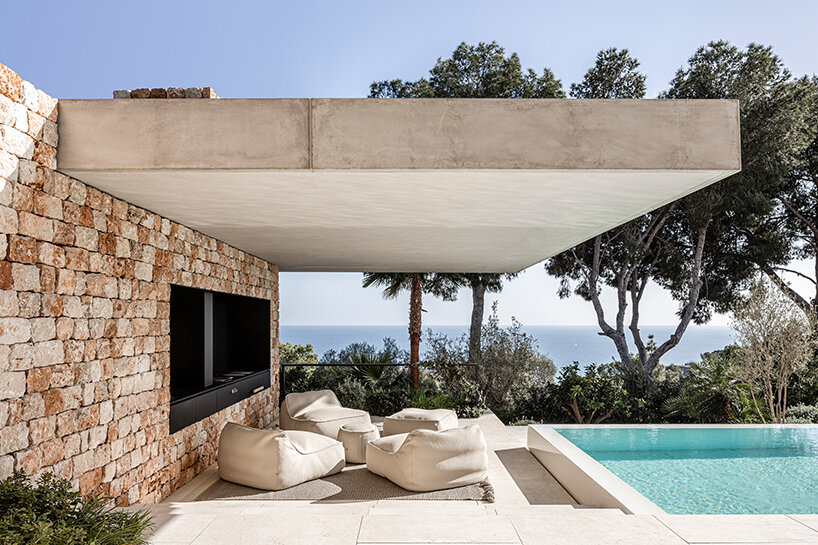 The built space creates a frame of the never-ending sea beyond