8 Genius Small Backyard Design Ideas for Maximize Use
Dinner en plein air tastes better. A summer breeze is as healing as a hot bath. And little competes with sipping a cold beer on a grassy lawn. Simply put, life outside is unparalleled in the warmer months. And a backyard, whatever the size, is a dream. The challenge is how to best design this space to maximum effect. Luckily, as these small backyard design ideas prove, you don't need an endless grassy expanse to reap the benefits of outdoor living.
In truth, even a patch of turf or grass can deliver joy. The key, as designers Bobby Berk and Liza Reyes share with us below, is to view your backyard (or patio or lightwell) décor as an extension of your living room. "Treat the outside as though it were the inside but with resilient materials," says Reyes, whose tips make designing this area seem much easier. The same for Berk, who believes the backyard is underutilized. "I love bringing the inside out and often use the same color scheme," he says.
Since we're burning summer daylight, let's get to Berk and Reyes's small backyard design ideas. Each proves less is more. (And that we'll always need more sunscreen.)
Featured image by Michelle Nash.
Keep scrolling for 8 inspiring small backyard design ideas.
1 of 8
Image by Nikole Ramsay.
How do you maximize a small backyard space?
Tip #1: Outline your goals.
Like any other room, a little planning goes a long way for a backyard or outdoor space. Reyes suggests first considering how you want to use your outdoor area. Do you primarily want to eat outside? Do you want to lounge? Maybe both? "Depending on the size of the space, a full eight-to-10-person table or a small bistro table for sipping coffee or cocktails can be equally charming," says Reyes. Just take a beat to envision how you want to live outdoors.
Tip #2: Define the space.
Create a setup just as you would a living room. This calls for anchor items, such as a rug, lighting, and sun coverage. Will you be eating in the darker hours or lounging during peak sunlight? For both—and more—think about items that take care of bare feet and provide shade when necessary. "Coverage can be a vine-covered pergola or a wonderful umbrella," says Reyes. "For lounging, a few pillows and cushions go a long way in making outdoor seating an inviting spot to sit."
Tip #3: Utilize dual-purpose pieces.
With a small outdoor space, the biggest hurdle is where to store items, says Berk, who suggests using furniture or multi-purpose accent pieces. "Instead of cluttering your space with many tables and chairs, you can use stools as tabletops and extra seating." And opt for built-in storage wherever possible.
2 of 8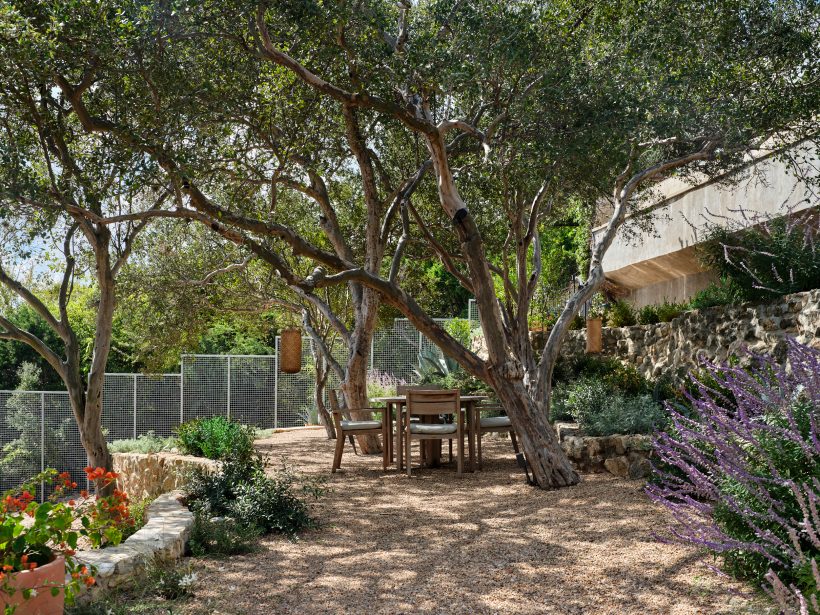 Image by Michelle Nash.
Tip #4: Stick with a tonal palette.
Staying with the same color scheme makes any space feel larger—including one outdoors. It also helps keep a small backyard from looking disjointed and clustered, says Berk.
3 of 8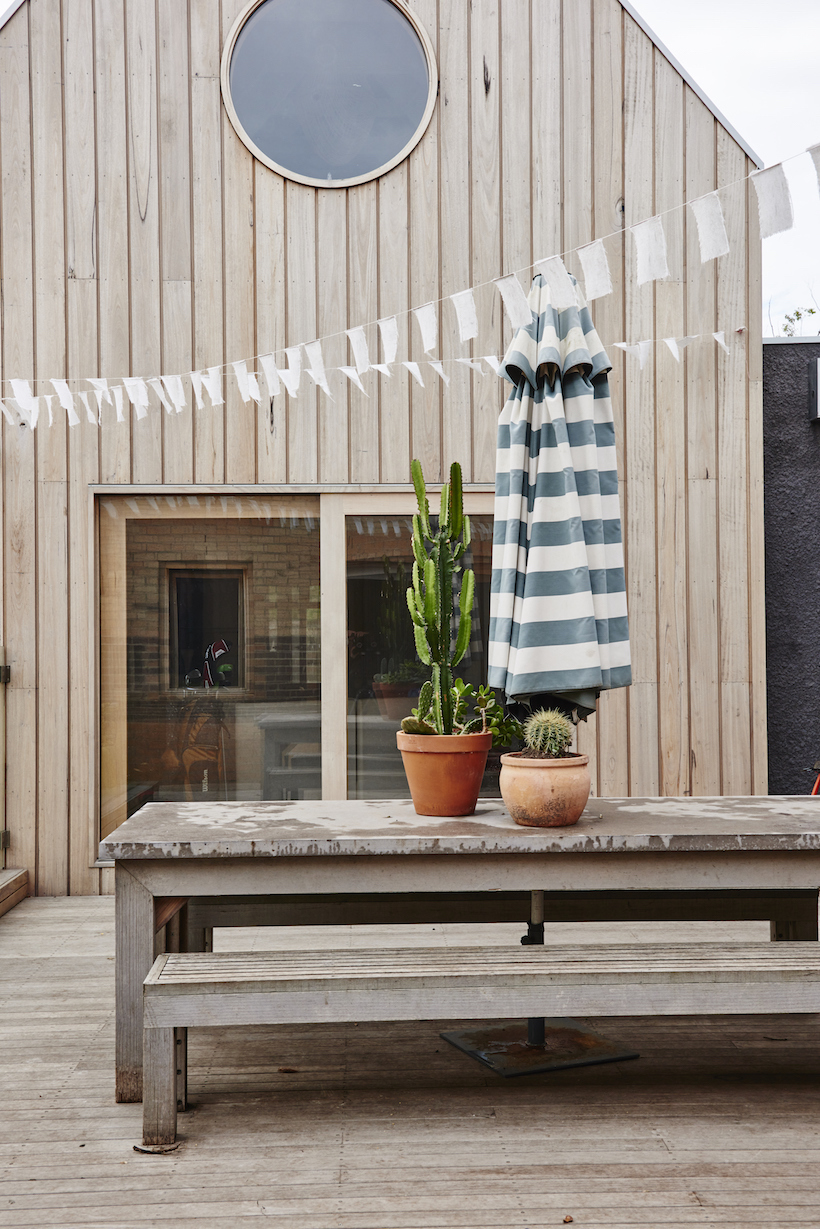 Image by Nikole Ramsay.
How do you make a small backyard look good?
Tip #5: Add accent pieces.
Here's the relief: You don't need to overhaul your current outdoor setup. Take it slow, says Berk. Add smaller décor items to freshen up the space. This can be in the form of small pillows for chairs or placing table linens on your outdoor table. "This changes the look and feel of your space without breaking your bank," Berk adds.
Tip #6: Use what you have.
Chances are, there is a botanical bounty or two already thriving in your backyard. "Whether it's greenery from your garden or a plant or flower that's in season in your area," consider how to spotlight those, recommends Berk. Use colorful planters or small lighting to showcase any natural greenery.
4 of 8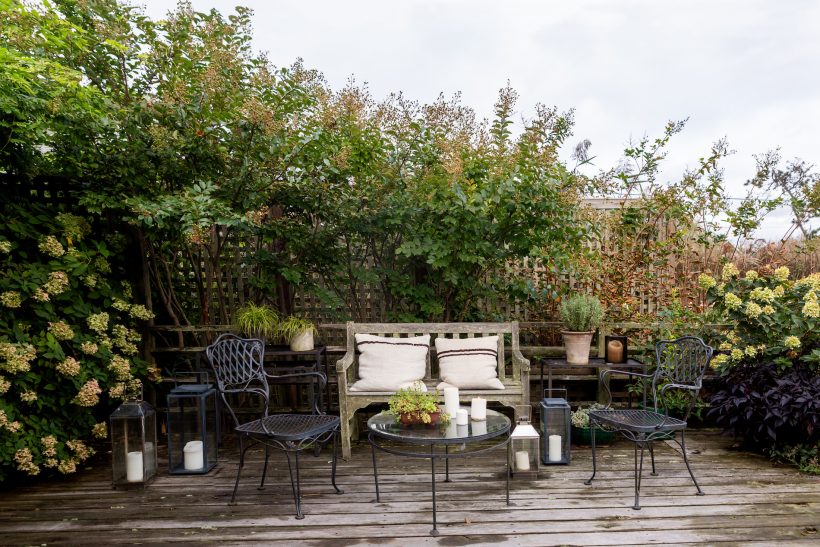 Image by Marta Xochilt Perez.
Tip #7: Incorporate small plants and flowers.
Smaller plants like succulents and mini cactus are easy to care for, says Berk. Add them to an outdoor tablescape or atop smaller stools or tables. "They never block your view from the person sitting across from you."
Tip #8: Make what you need.
When Reyes needed something for outdoor lounging, she opted to stretch the possibilities of what was already inside her home instead of purchasing overpriced outdoor furniture. "I used the extra twin mattress from my son's room, previously used for sleepovers, and covered it with a sturdy textile I could wash regularly," she says about her "Donald Judd-style" makeshift daybed. After tossing on a few pillows, it turned out to be an ideal nap spot and "the best place to hang out with friends"—all for less than $300, she says.